Easy Almond Coconut Fudge Recipe – Quick 3 Ingredients Recipe
As an Amazon Associate and member of other affiliate programs, I earn from qualifying purchases.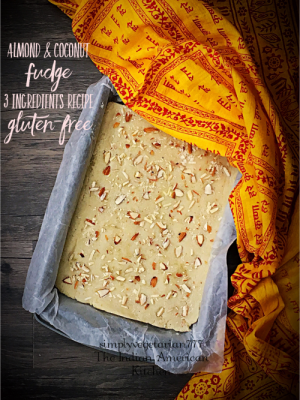 This Almond Coconut Fudge is made with just 3 Ingredients. This fudge is so easy and quick to put together and is finger licking delicious.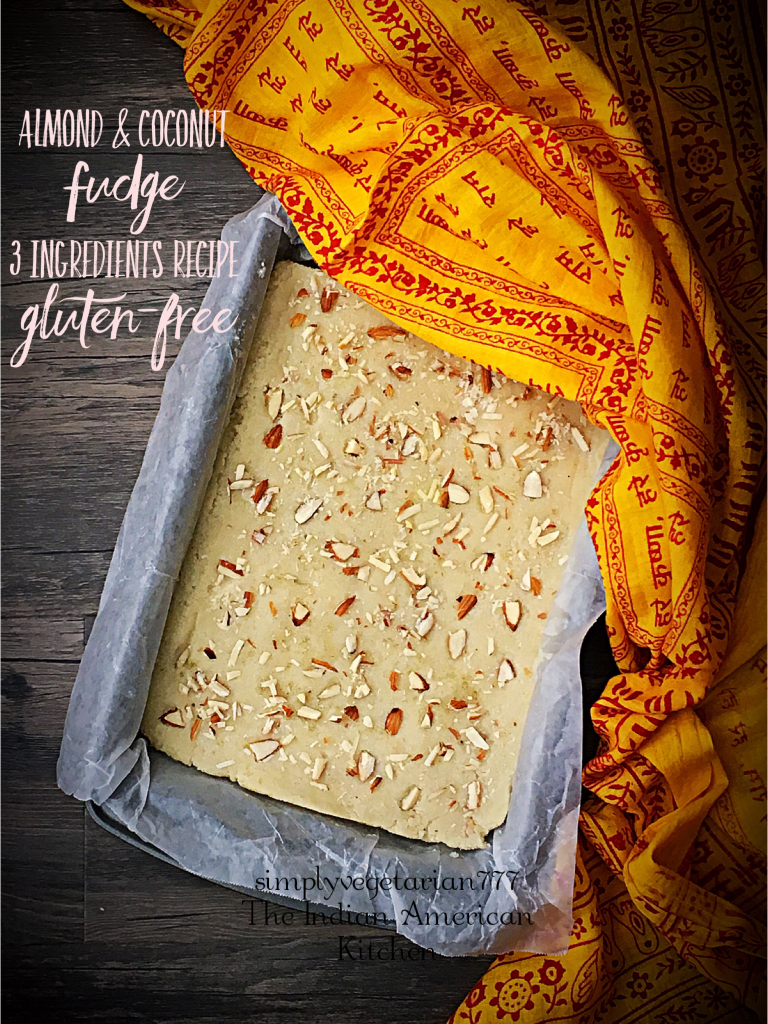 Easy & Quick 3 Ingredients Almond Coconut Fudge Recipe
Hey you all. I am back with another of my EASY & QUICK DESSERT RECIPE.
If you are my regular reader, then you probably know that my blog is all about Easy, Simple and Quick Recipes. The best part is that my recipes are made with easily available everyday ingredients. Isn't that awesome?
Well, thanks to Aanya (my older daughter) who inspired me to create this recipe. She is a picky breakfast eater. And leaving at 6:30 am in the morning doesn't help at all.
Moreover, she does not like eating anything made with grains in the morning. Therefore toast, pancakes, waffles are out of the window. We have this argument about breakfast every morning where I am struggling what to feed her for breakfast.
It breaks my heart to know that she doesn't get to eat till 1:00 pm at the school, hence my motherly mode becomes all the more overbearing for her. Therefore I came up with this recipe which is perfect for growing kids. It has fat, protein, minerals, calcium, iron, and fiber.
I think it makes for a wholesome breakfast or a snack for growing kids as well as adults. Having said that, all the desserts need to be consumed in controlled portion because of its sugar and fat content.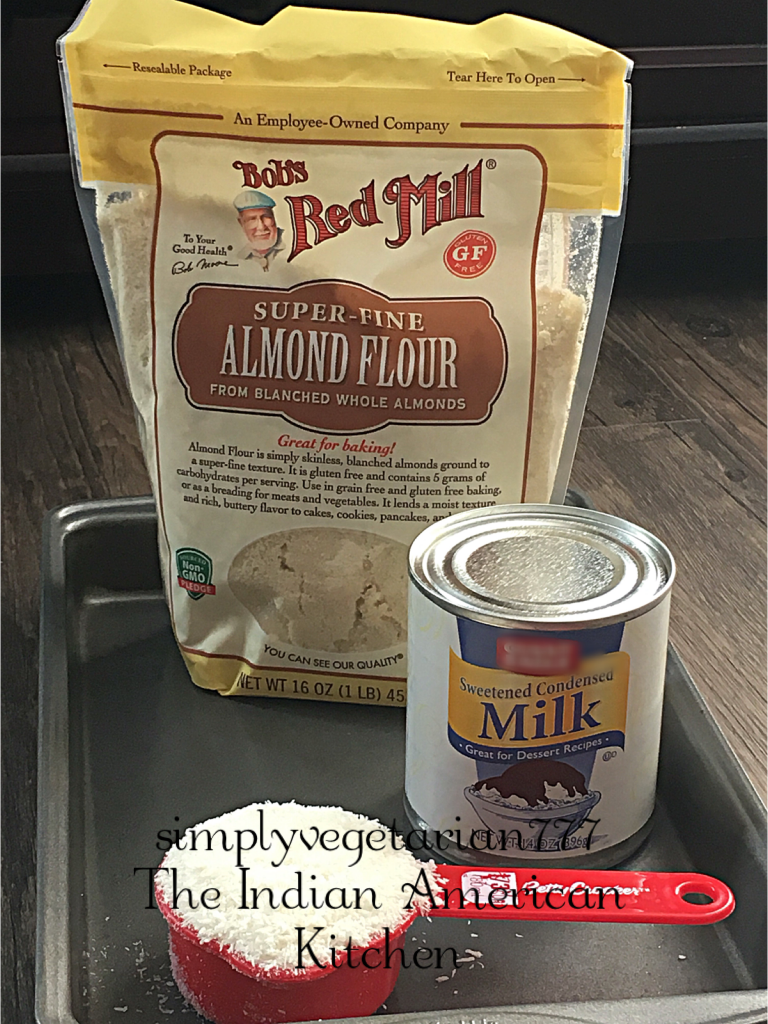 The 3 Main Ingredients used in this Fudge Recipe are
Condensed Milk
Almond Flour
Coconut, shredded and unsweetened
Kitchen Gadgets Required for making the Fudge
Disclaimer – We use Amazon Affiliate Links. It does not cost you anything extra if you purchase from here but helps us earn a small commission to keep the blog running.
Heavy Bottom Pan
Small Brownie Tray – I love this one as it is very handy for setting fudge or Barfi
Save 70.0% on select products from zanmini with promo code 708F1X6P, through 11/29 while supplies last.

Parchment Paper
How can I personalize this Fudge Recipe?
This Recipe is so easy to adapt. You can adapt it in following ways –
Use only almond flour to make it ALmond Fudge
You can make it Only Coconut Fudge by using only shredded coconut in the recipe
Other dry nuts can be added in the fudge to make it more wholesome.
Some options for other nuts are – chopped pistachios, chopped pecans or walnuts, dried cranberries or raisins. There are may possibilities.
You can change the shape of this fudge. Instead of setting it flat and cutting out in sqaures, you may cut them long into bars. These can be easily rolled into balls too.
Save 75.0% on select products from Messic with promo code 75YNLWSV, through 10/31 while supplies last.
Can Coconut Almond Fudge be made in Microwave?
Yes, absolutely. This recipe can be easily prepped in the microwave. How? This is how –
Take a microwave safe bowl. Add all the ingredients in it. Microwave it for 4-5 minutes in the intervals of 30 seconds. This means – take out bowl after every 30 seconds, mix with a spoon and microwave again for 30 seconds. Repeat the process, till the whole mixture comes together, leaving the sides of the bowl. Then set it as mentioned in the recipe below. Easy, right?
Why Should I make this Fudge?
My top 5 Reasons to make this Almond Coconut Fudge and keep it handy are –
It is super easy and super quick to make. You can not beat the fact that it is made with just 3 Ingredients.
If you have a picky breakfast eater and likes sweet over savory, then this is a perfect grab and go breakfast for her/him. My oldest daughter leaves for her school around 6:30 am and has no time and mood to indulge in breakfast. I keep this handy for her. It keeps her full and is a great source of energy for the whole morning and till it is lunch hour at 1:00 pm. High school is tough. Keep your kids nourished. 
I am not much of a dessert person, but there are times when I crave for some simple fudge kind of dessert. It is perfect for satisfying my anytime sweet cravings.
It is gluten-free. I wouldn't say that it is a Healthy Dessert or Snack but it is filling. Almond flour and shredded coconut are a great source of nourishment. If condensed milk is not a healthy ingredient, it is getting balanced out with almonds and coconut goodness.
Can I say that it is a great grab and go SNACK as well? There are evenings when busy gets busier running in and out of the house between kids' classes and more. I keep it handy to pass it out for a quick snack to beat the evening slug and cover up till ready for the dinner.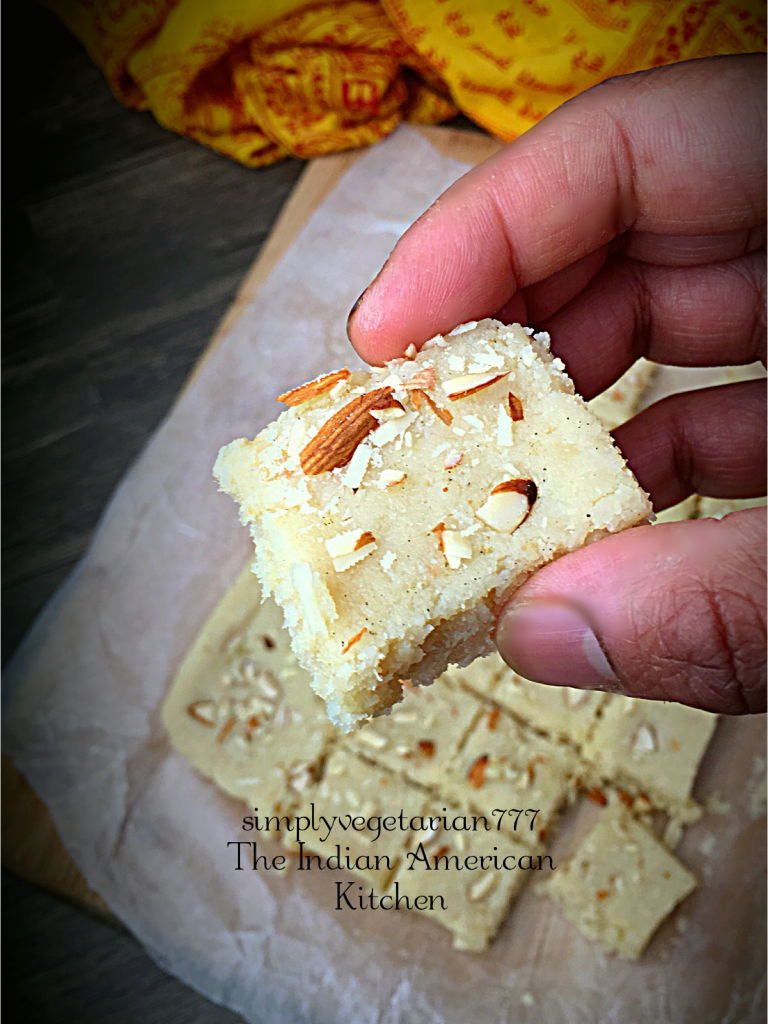 Some EASY & QUICK DESSERTS & SNACKS from simplyvegetarian777 are –
Save 50.0% on select products from SkyGenius with promo code 50JEQDEH, through 10/31 while supplies last.

2 Ingredients Coconut Fudge (Nariyal Laddoo)
Milk Fudge 5 Ingredients Recipe
Cashew & Chocolate Fudge and many more.
This is how you make Easy & Quick Coconut Almond Fudge with just 3 Ingredients.
Almond Coconut Fudge
This Almond Coconut Fudge is made with just 3 Ingredients. This fudge is so easy and quick to put together and is finger licking delicious.
Ingredients
1

can

Condensed Milk

I used Light variety

2&1/2

cups

Almond Flour

I used Bob's Red Mill

2&1/2

cups

Coconut shredded, unsweetened

fine and dry
Instructions
Take a plate or a small brownie baking tray and line it with a parchment paper. Set aside.

Take a heavy bottom pan and add condensed milk, almond flour and shredded coconut to the condensed milk.

Put the pan on medium-high flame. Keep stirring and

mixing the 3 ingredients until they leave the sides of the pan. These will

come together in the center of the pan.

Spread the Hot Fudge Mix on the Lined Brownie Tray. Top it with sliced almonds if you would like. You can use any kind of nuts to top it alternatively.

TIP for easy spreading of the fudge - Once you pour the mix on the tray, spread it roughly with a spatula. Now take another large piece of parchment or butter paper. Place it on top of the hot fudge mixture. Spread and Even it out gently in all the directions either with your hands or a rolling pin. Once spread, remove the top layer of parchment paper.

Set it inside the refrigerator for cooling and setting. Cut it into desired shape and size once set.
STORAGE
Since it is a soft fudge, I stored it inside the refrigerator in an airtight box after setting it.
I am sure you will be trying this recipe soon. Please post your review and feedback under comments once you have tried it.
Save 50.0% on select products from SkyGenius with promo code 50HCYNNT, through 10/31 while supplies last.
Can't make this Almond and Coconut Fudge right now? PIN IT FOR LATER.

In my Kitchen, you will always Eat Happy & Stay Happy.
Sonal