Mung Cheela with Tandoori Mix Veg Filling – Diabetes Friendly Thursdays
As an Amazon Associate and member of other affiliate programs, I earn from qualifying purchases.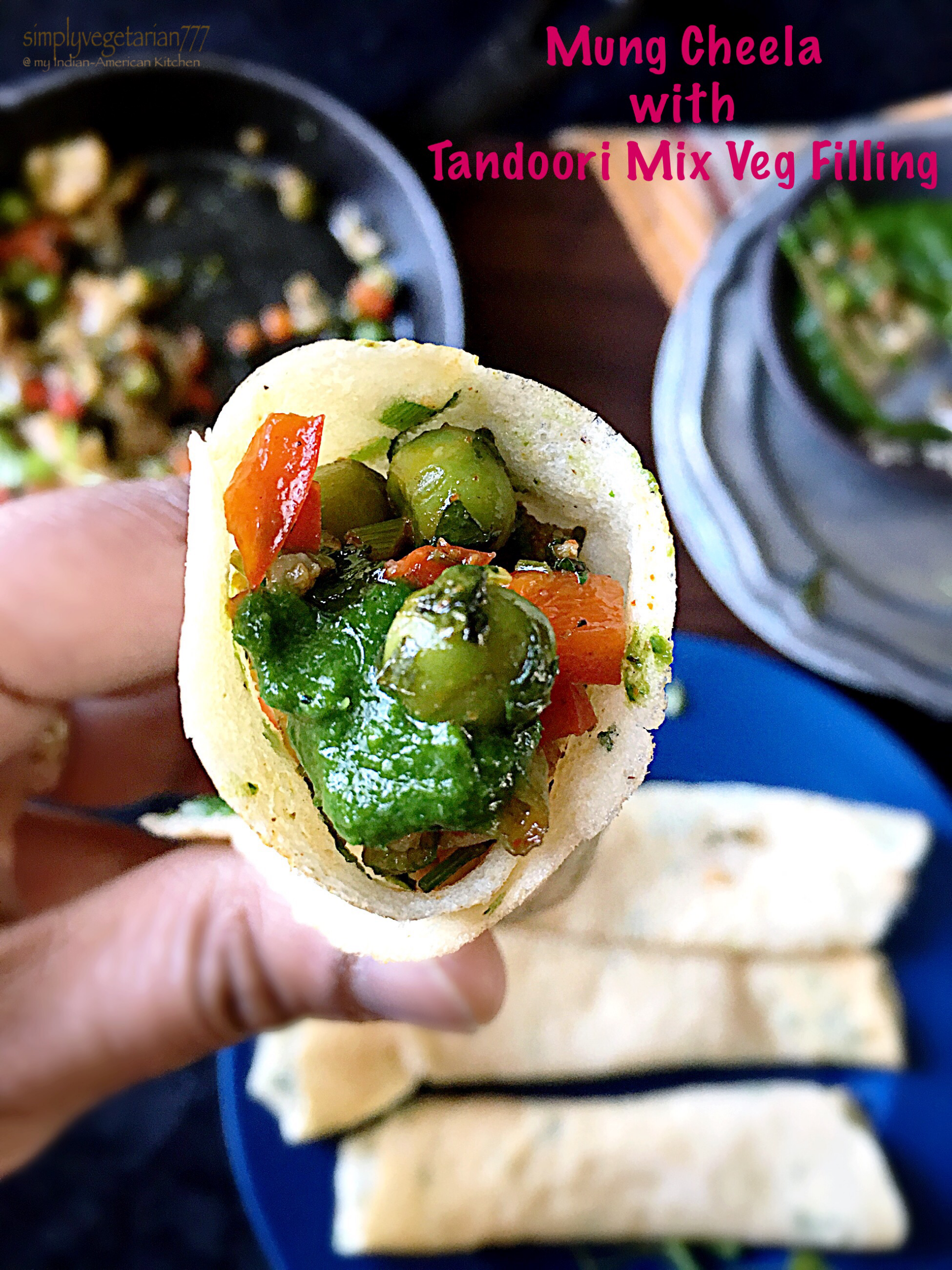 Mung Cheela with Tandoori Mix Veg Filling – Diabetes Friendly Thursdays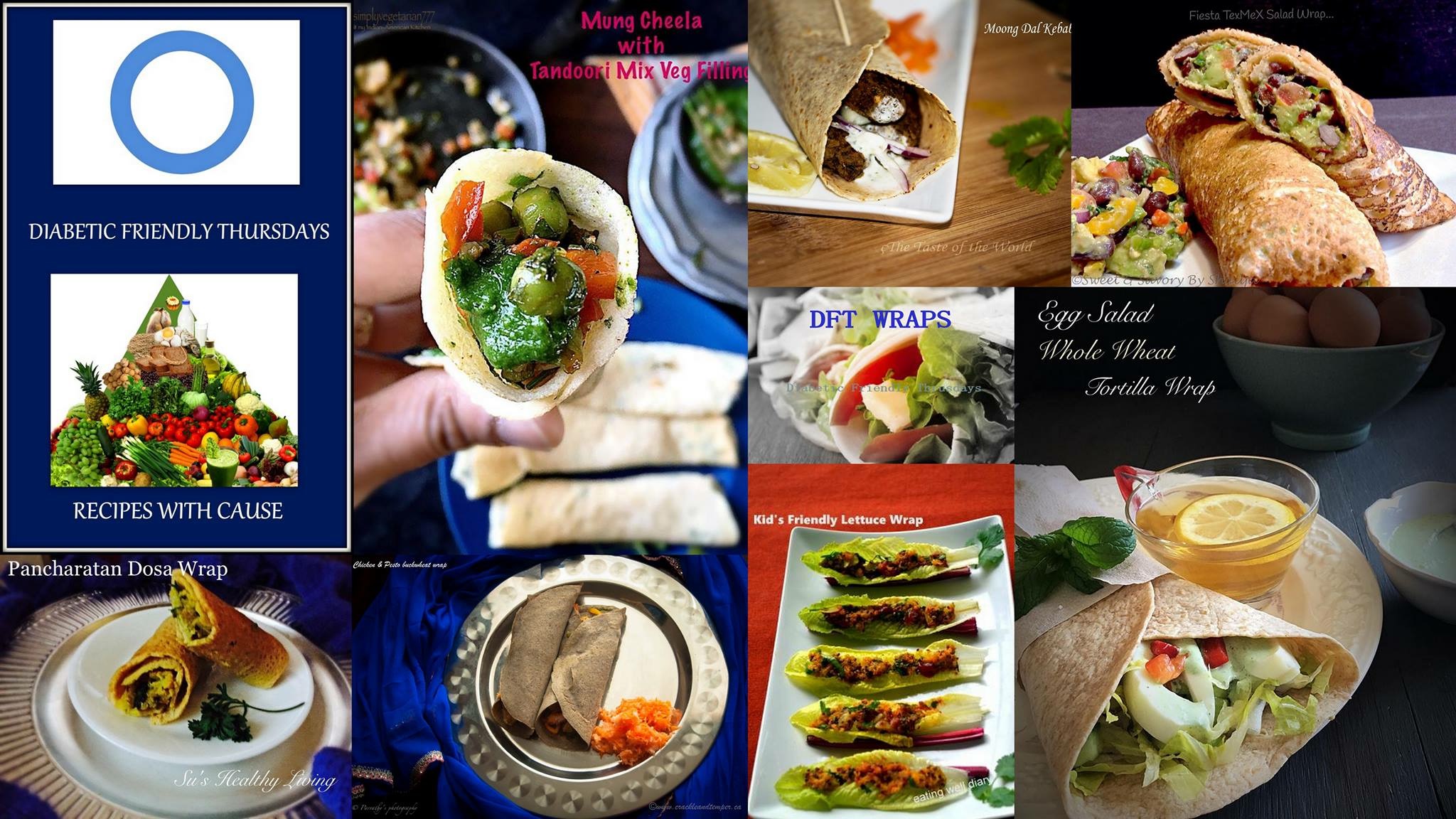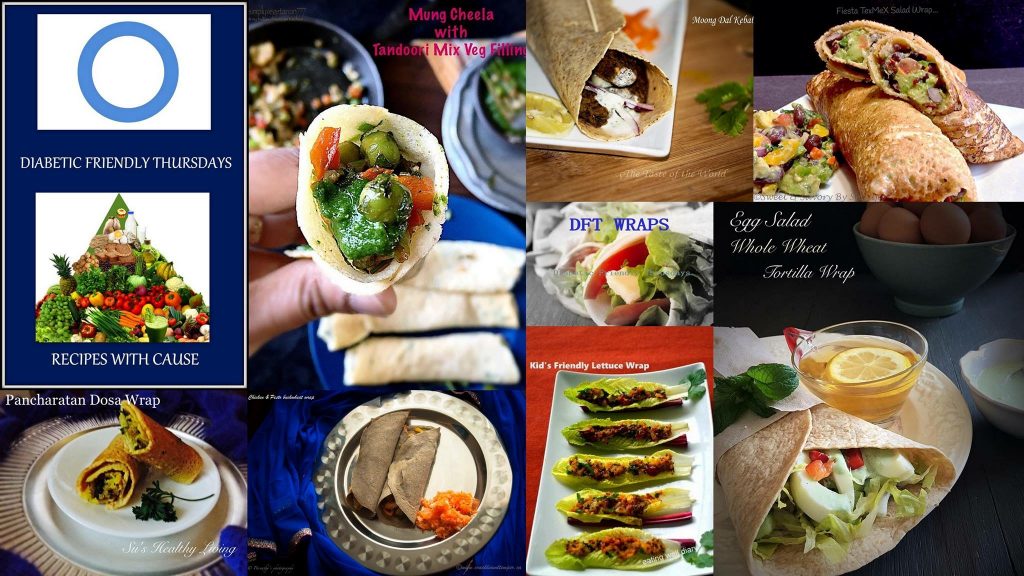 Mung Cheela with Tandoori Mix Veg Filling – Diabetes Friendly Thursdays is the perfect gluten free, weight watchers friendly and Diabetes friendly recipe.
Creating Recipes with a cause! I am a proud DFT blogger. To learn more about Diabetes Friendly Thursdays, Read this Link !For more DFT recipes, Click here !
Mung Cheela with Tandoori Mix Veg Filling – Diabetes Friendly Thursdays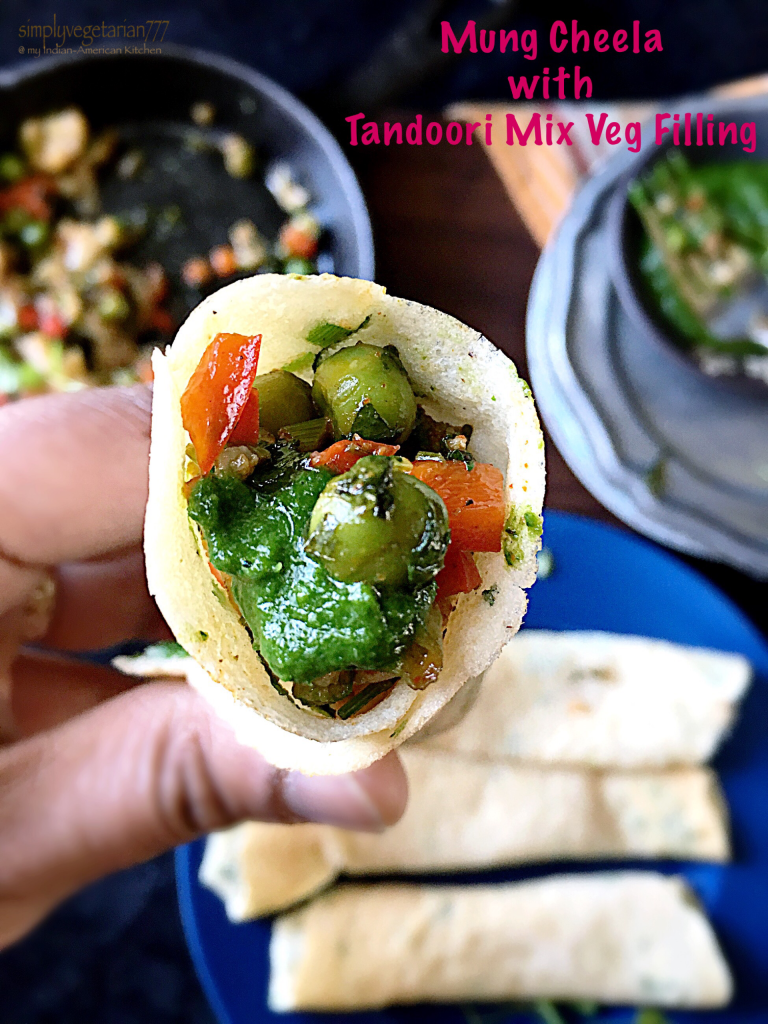 Celebrate the month of May with Team DFT, indulging on some delicious and hearty wraps that are diabetic friendly and weight watchers friendly.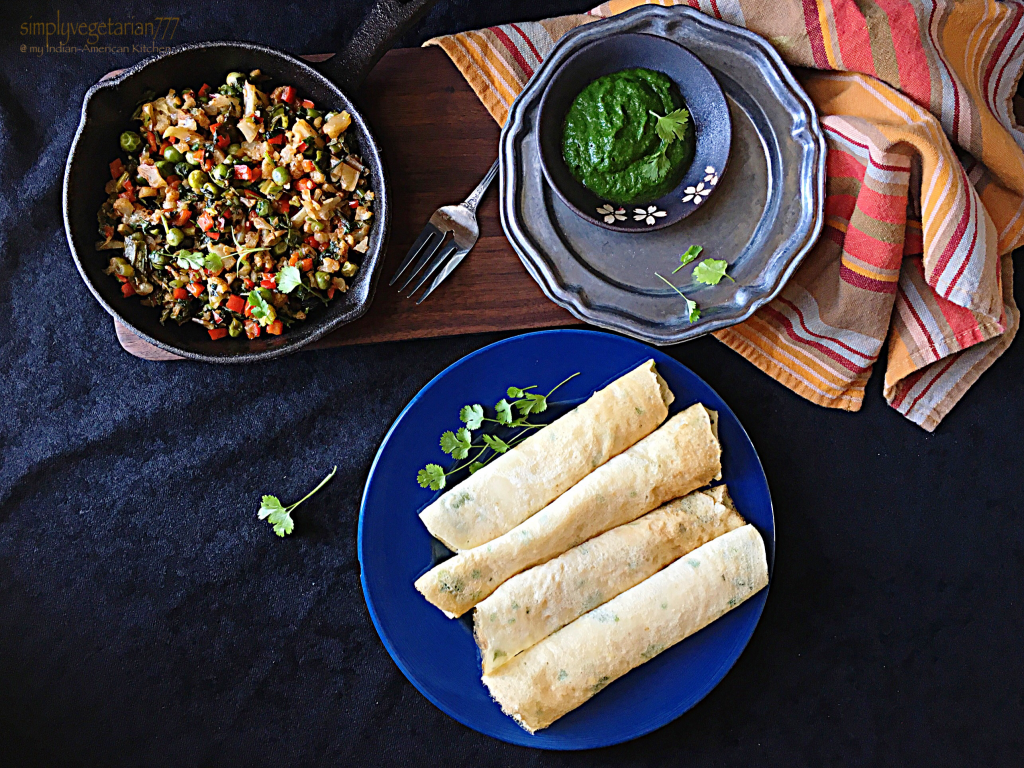 Mung Cheela with Tandoori Mix Veg Filling – Diabetes Friendly Thursdays is a recipe to savor and treat yourself again and again. Mung Cheela is a childhood favorite. Mom often made Cheelas out of Besan (chickpea flour) and it is such an instant recipe that it comes handy any time and every time whenever you are hungry. Just make the batter with flour and water, add some salt and pepper, spread on hot tawa/griddle and done. Can you believe it? The Mung Cheela is made in similar way and is much lighter on stomach and fewer carbs comparatively.
To make Mung Cheela, the mung dhuli (yellow mung split) is soaked for an hour and then ground fine to make batter. The batter can be made thick or thin depending upon the softness that you desire. For this recipe, we need to make softer cheelas so that we can use them as wraps.
For the filling, I had been contemplating about Peas and Paneer but the whole concept of making it more fiber rich for diabetes would have been wasted. Cauliflower came to the rescue when I was brain storming the other options. Cauliflower is a magical vegetable and consumption of the same helps our body metabolism in many ways. Do include it in your diet regularly.
A long time ago, I had made a video on how to spread the Cheela or Dosa on hot tawa. This is the link here – Click here for the Video . If the link is not working then copy & paste the link in your browser – https://www.magisto.com/video/IkceIEcJEDc6Dg1pYw?l=vsm&o=i&c=c
Cheela is also known as Pooda or Poodla in other regions of India. If I explain it in American, it is a thin crepe made with mung beans.
Mung Cheela with Tandoori Mix Veg Filling - Diabetes Friendly Thursdays
Gluten Free, Diabetic friendly and weight watchers friendly recipe, made with protein rich mung and starch free fiber rich vegetables. A great wrap which can be eaten for main meal or snack.
Ingredients
Cheela Ingredients
Mung Dal

dhuli (yellow) - 1/4 cup

Water - 1/4 cup + 1/2 cup

Salt & Red chili powder - a pinch each

Cilantro/coriander leaves - 1 tsp. chopped fine
Tandoori Mix Veg Filling Ingredients
Cauliflower / Gobhi - 75 gms or 1/2 cup finely chopped

Bell Pepper / Capsicum - 50 gms or 1/4 cup finely chopped

Scallions / Green Onions - 1 stalk

finley chopped

Green peas - 2 tbsp

Mint leaves - 3 to 4 chopped fine

Coriander / Cilantro leaves - handful
Oil & Spices
OliveOil - 1 tsp. You may use the oil of your choice.

Tandoori Masala - a fat pinch

Salt - to taste
NOTE - In case you do not have Tandoori Masala, then use a pinch of garam masala and a pinch of fancy paprika or kashmiri lal mirch together.
Instructions
Soaking the Mung and Making the Batter
Wash 1/4 cup of Mung Dhuli thoroughly in a bowl till water runs clear. Soak it in 1/4 cup of water for about 1&1/2 hrs. The dal would soak all the water up and double in size.

Take a high power blender/mixie and add the soaked dal + 1/2 cup of water to it. Ground it fine to a smooth and runny batter. The batter is a free flowing pouring consistency. Add salt, red chili powder and chopped cilantro / coriander leaves to the batter and set aside.

In between soaking and making the batter, work on your filling.
Making the Tandoori Mix Veg Filling
Heat Olive oil in a non stick or hard anodized or ceramic pan and once hot, add all the finely chopped vegetables to the pan. Sprinkle the Tandoori Masala and Salt on top of it. Cook on medium flame, till the vegetables are soft and not mushy. Add chopped mint and coriander leaves. Give a good stir. Cover with lid. Switch off the gas. Set aside to be used till your cheelas are ready for the filling.
Making Cheelas
The batter above will yield about 5-6 cheelas of about 4-5 inches each.

Heat a flat non stick or hard anodized griddle or tawa. I used an electric griddle, that can make 2-3 cheela at the same time.

Take about less than 1/4 cup of batter and spread it real thin, in a round shape. Refer to the video link above in the post to learn how to spread the cheela efficiently.

Cook on high for about 2 minutes till it is cooked and slightly dark yellow in color. Flip it gently and cook for another 1 minute. Finish the batter like wise.

We want soft cheelas to use them as wraps. Do not make them crispy.

The oil free Mung Cheelas are ready.
Serving Mung Cheelas with Tandoori Mix Veg Filling
Take a Cheela and lay it flat. Scoop some filling and spread on one side of the cheela, as shown in the picture below the recipe. Add some chutney if desired. Roll it tight into a wrap and serve it warm.
Notes
Very important thing to remember when making cheela or dosa is to have a super hot tawa or griddle. If t is not hot enough, then the cheela or dosa will stick to it.
Another important thing is that before spreading another cheela, wipe the tawa properly with a wet kitchen towel. There should not be any residue on the tawa.
Non stick or hard anodized tawa is the ideal choice to make oil free cheelas.
The Mung Cheelas with Mix veg filling are best served with Green Coriander / Cilantro Chutney or Mint Coriander Chutney.
They can be packed for lunch boxes, in that case, pack cheelas and filling separately.
You may use Mung Dal flour for more instant method.
You may make the batter and keep it ready in refrigerator for instant snack or a meal. It is that easy. Once you have the batter, it does not take more than 30 minutes to treat your family a wholesome meal on busy week night. For more instant method, use mung flour, easily available in the stores. The filling comes together in no time either. You may pack it for lunch box also, just pack the cheelas and filling separately.
Break the ice and think outside the potatoes, paneer and peas as filling.
Here are some chutney recipes that will go very well with these wraps – Mint Coriander Chutney and Coriander Chutney. Some other Diabetes friendly recipes from the blog are – Kosumbari , Grilled Spicy Paneer Skewers and Grilled Veg Kebabs . Hope you will find this post interesting and will stay tuned to future DFT Posts.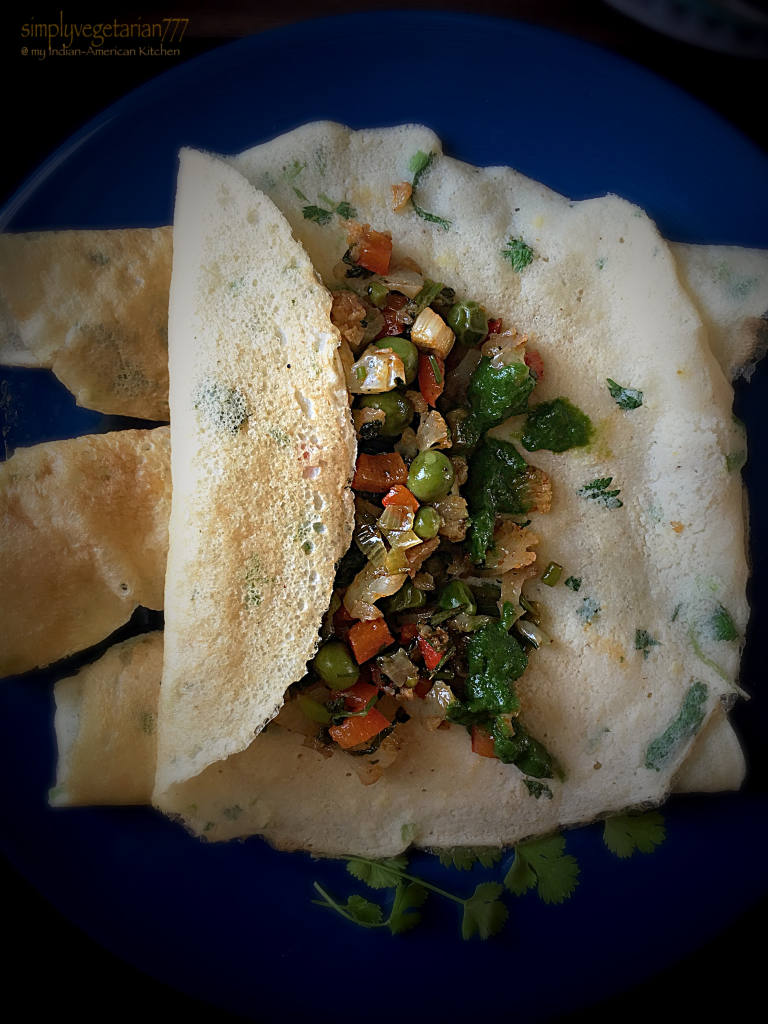 I had a fabulous time cooking this meal and enjoying a filling, nutritious and delicious meal for the lunch. I hope you would do that too. Next time when you are hungry pr kids are hungry, make this in no time and enjoy.
---
Foot Notes
Mung Beans are low on the glycemic index at 25 and have a low glycemic load of 4 making them a smart food choice for diabetics. Diabetics can safely eat Mung Beans. The low glycemic index, fiber and protein help to regulate blood sugar.
Cauliflower, Spring Onions, cilantro/coriander leaves, mint, bell peppers are non-starchy vegetables and herbs and filled with fibers and beneficial vitamins and minerals. Carrots are loaded with beta-carotene, which has been linked to lower risk of cardiovascular disease and diabetes. A study found that individuals with high blood levels of beta-carotene have 32 percent lower insulin levels (suggesting better blood glucose control). Cucumbers are a cool, crisp, low-carb choice for people with diabetes. You can get your fill of this low-carbohydrate vegetable without worrying about raising your blood sugar too much. Cucumbers are a good source of vitamin K and they also contain potassium and vitamin C.
Green Peas are a good source of protein and fiber, though are advised to be consumed in controlled quantities by a Diabetic, since they are starchy vegetables.
---
Disclaimer
I am not a nutritionist or dietician. My knowledge and information is based on my research and reading from different resources. Please consult your doctor or dietician before making any changes to your diet.
Other Fun and Healthy Wraps from Team DFT are –
Shailja's Masoor Cheela with Tex Mex Filling
Swati's Egg white Salad Whole Wheat Tortilla Wrap
Apsara's Lettuce wraps
Sarika's Moong Dal Kebab Wraps
Suchitra's Panchratan Dosa wrap
Parvathy's Chicken Pesto Buckwheat Wrap
I am sure that you will bookmark this post for handy last minute ideas.
Eat Happy! Stay Happy!
Sonal