Paneer Sabudana Thalipeeth / Cheese Sago Flat Breads, Gluten Free
As an Amazon Associate and member of other affiliate programs, I earn from qualifying purchases.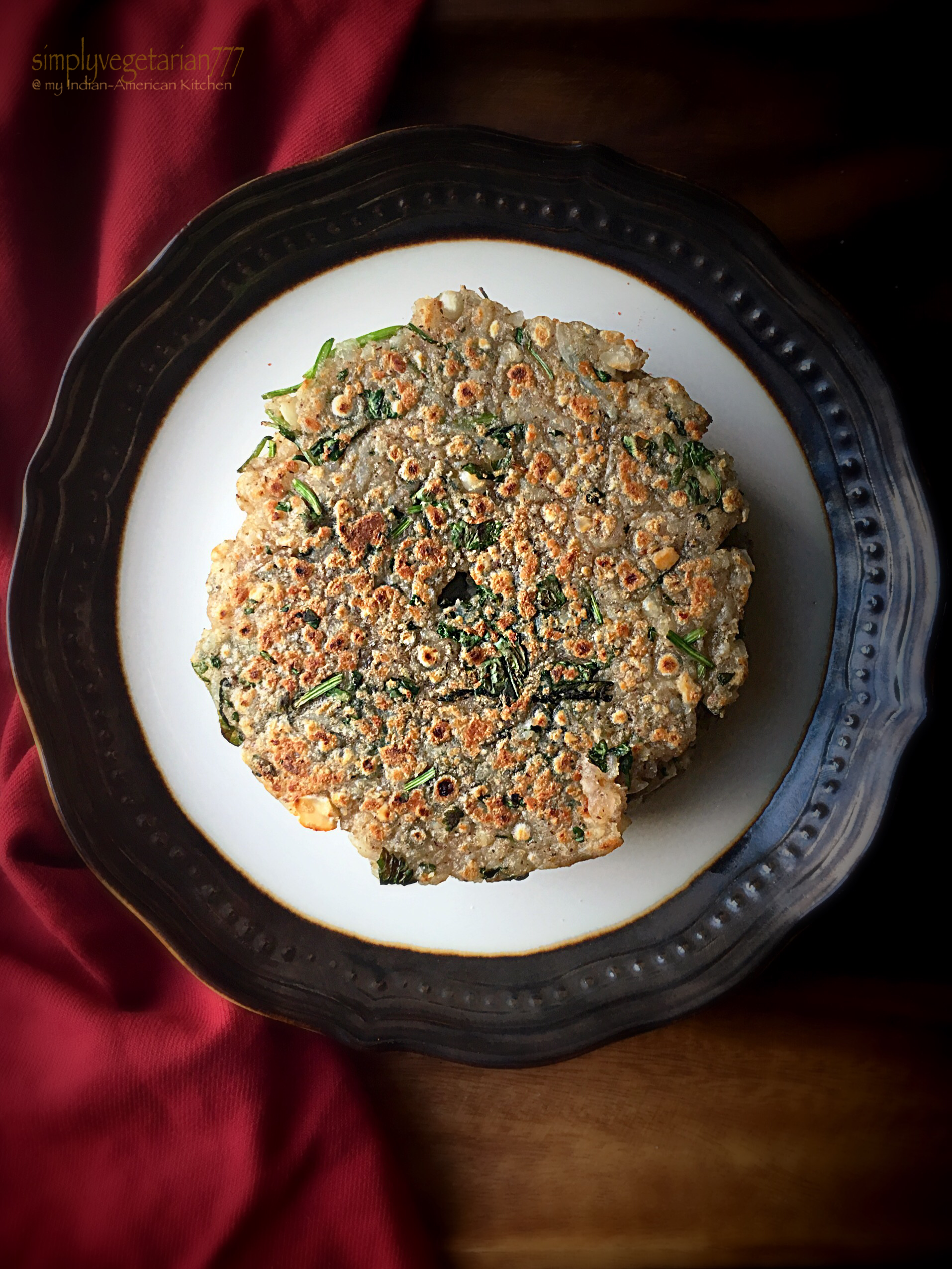 Paneer Sabudana Thalipeeth / Cheese Sago Flat Breads,
Gluten Free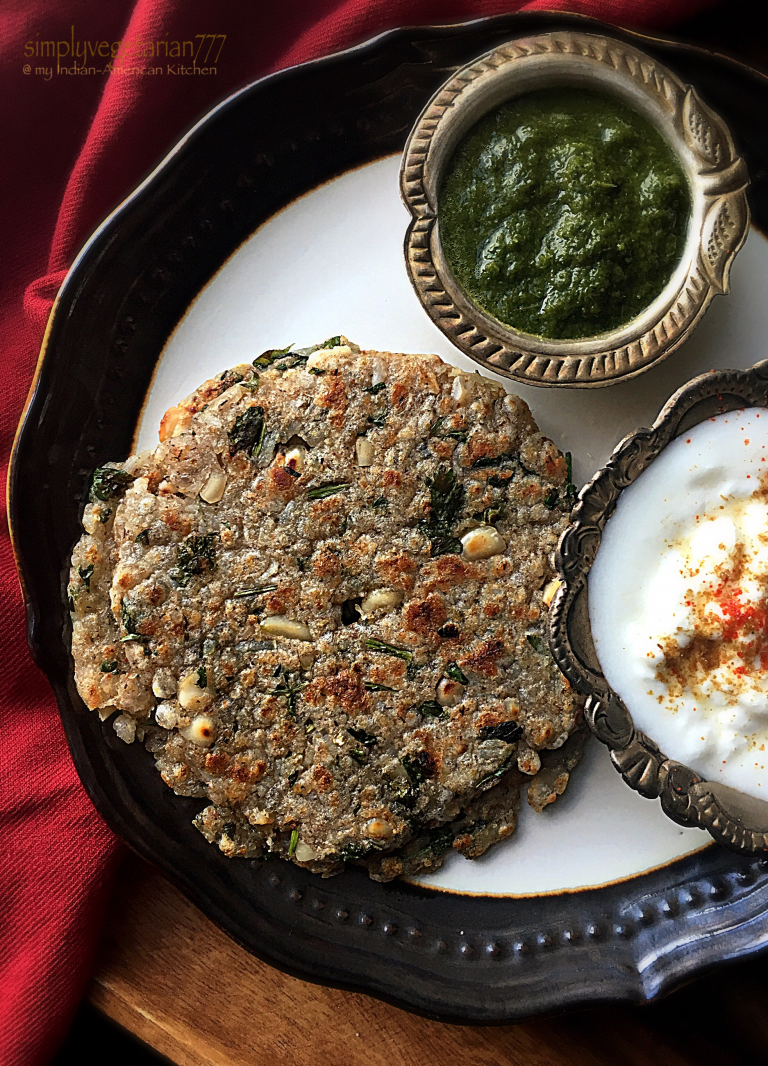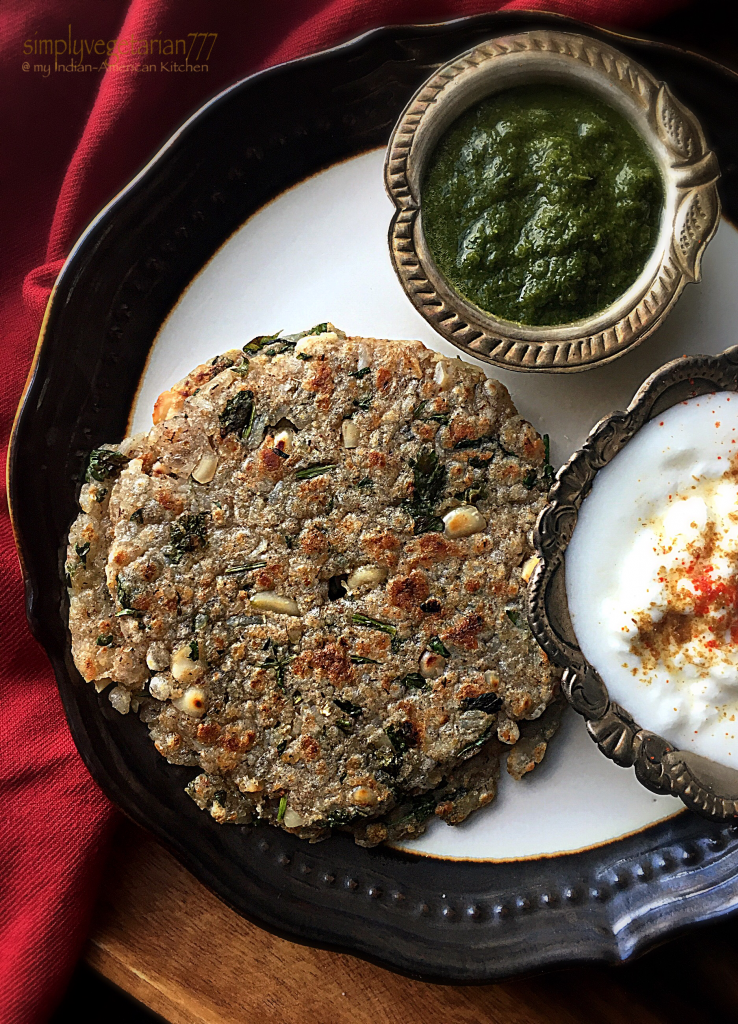 Paneer Sabudana Thalipeeth / Cheese Sago Flat Breads, Gluten Free are such scrumptious flatbreads, filled with flavors and layers of textures with pottao, paneer, sabudna, peanuts and cilantro-mint-chili. It is a food gourmand's dream come true. The comfort of every bite, melts your heart a little bit more everytime you put another one in your mouth. Paneer is Indian Cottage Cheese, Sabudana is Sago or Tapioca pearls, Thalipeeth is a type of multi grain savory pan cake, common in western India.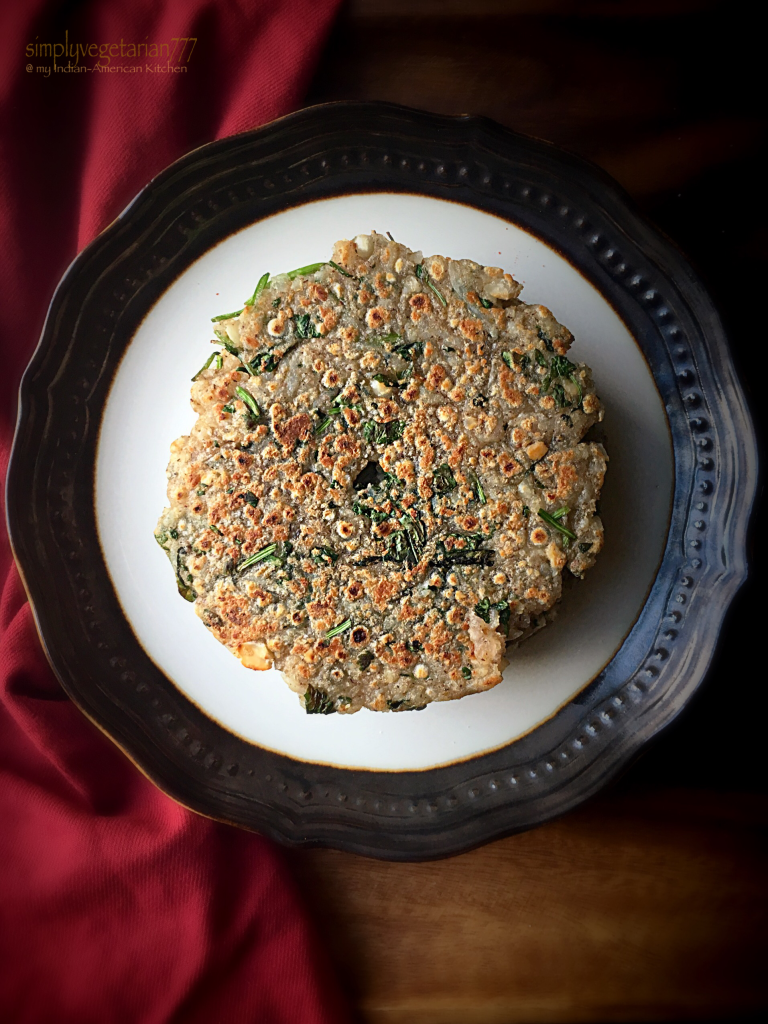 As I mentioned before that I am a mentor at one of the most live and happening group on Facebook, founded by Inaaya Anjali Irfan Shaikh . It entails different aspects of life and is always bubbling with enthusiasm and creativity. I always find something inspiring on the group, be it fitness, music, parenting, gardening, jokes, of course food and good friendships. I am amazed how this gorgeous lady has worked hard and build this community, bringing people, cultures, regions and boundaries together. The forum is called Chai pe milte hain (let's meet over a cup of chai). Check out the group here.
Coming back to the recipe, as a mentor on the group, I offered to pick 2 recipes from the navratri collection from the forum. I dived to pick 2 and came back with 3 instead. Yesterday I blogged Sabudana Kheer by Aayushi and today I published Rajgira ke Wade by Monal and now I am in the home stretch of my 3 recipe blogathon, with last but not the least gorgeous post, recipe courtesy- Vishal Amin. I promise that you would want to be a regular visitor at Chai Lounge, after these posts.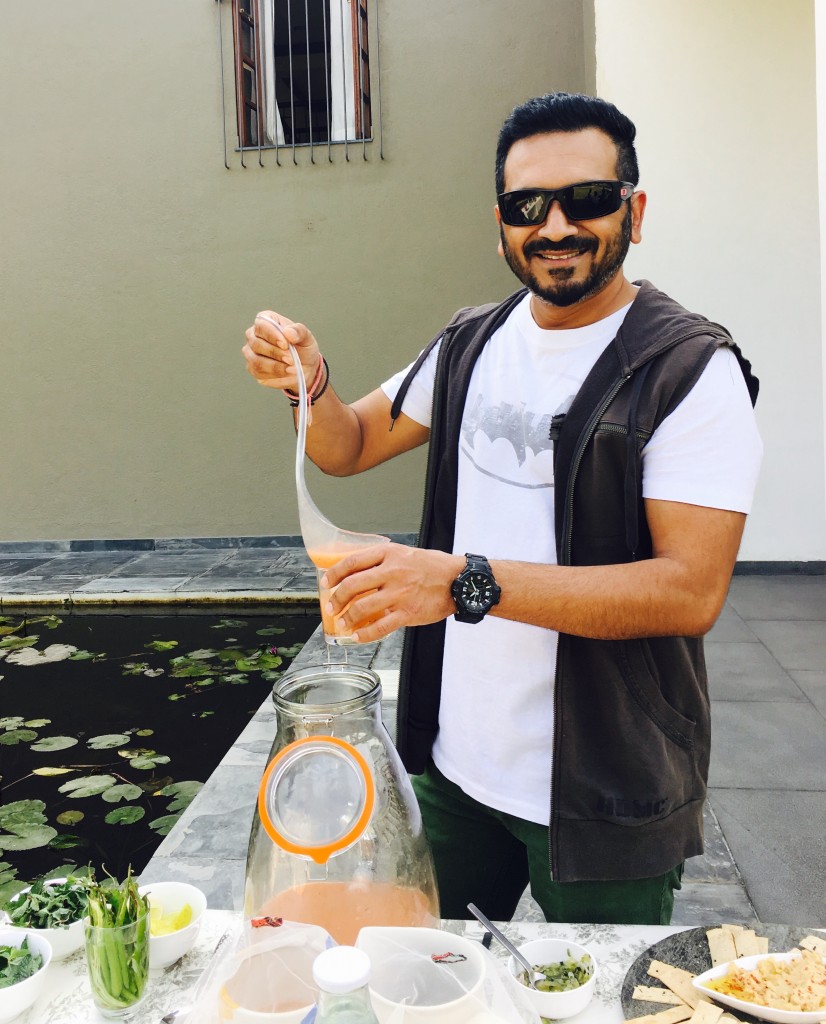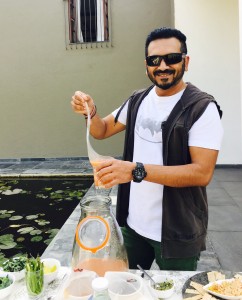 Vishal Amin – Recipe Contributor
Vishal Amin, resident of Ahmedabad, Gujarat is no ordinary man. He is a passionate soul, be it his business, travel or cooking. When people compliment him saying, 'You make money' he replies,'I make time'. He is an alchemist with food, who turns everything into gold. A dreamer and sure knows how to pursue them. Good Food, Techno Music, Riding his Motorcycle & See the Beautiful World are the things that he lives for. Vishal loves to use different ingredients in an unusual way, innovating recipes and he says that he does not like to play with the original flavors of the dish. He looks forward to be a called as A-Home Chef one day. IMHO, he is already an accomplished home chef and if he sets his entreprenuering magic to it, he soon can be a known chef. I have to admit one thing here that Vishal and I share another thing common between us, besides food is, the love and magic of our iPhones. We both love clicking pictures with our super duper iPhones and turning them into nothing less than a magic. His travel pictures are so real and beautiful, it is just beyond words.
I did not tweak Vishal's recipe at all, besides using buck wheat flour instead of water chestnut flour, since I did not have it. The only change I made is that I have halved the measurements. Do try this recipe to see what this holds for your taste buds. As Vishal mentioned, it is good carbs loaded and can otherwise be used by the people who are looking to gain weight. Yes there are people who struggle with lesser weight too.
Other SImilar fasting recipes from my blog are – Kuttu ke Paranthe,  Rajgira ke Cheele & vrat ki Aloo ki Sabzi, Rajgira Aloo ke Paranthe.
This is how you make Paneer Sabudana Thalipeeth / Cheese Sago Flat Breads, Gluten Free.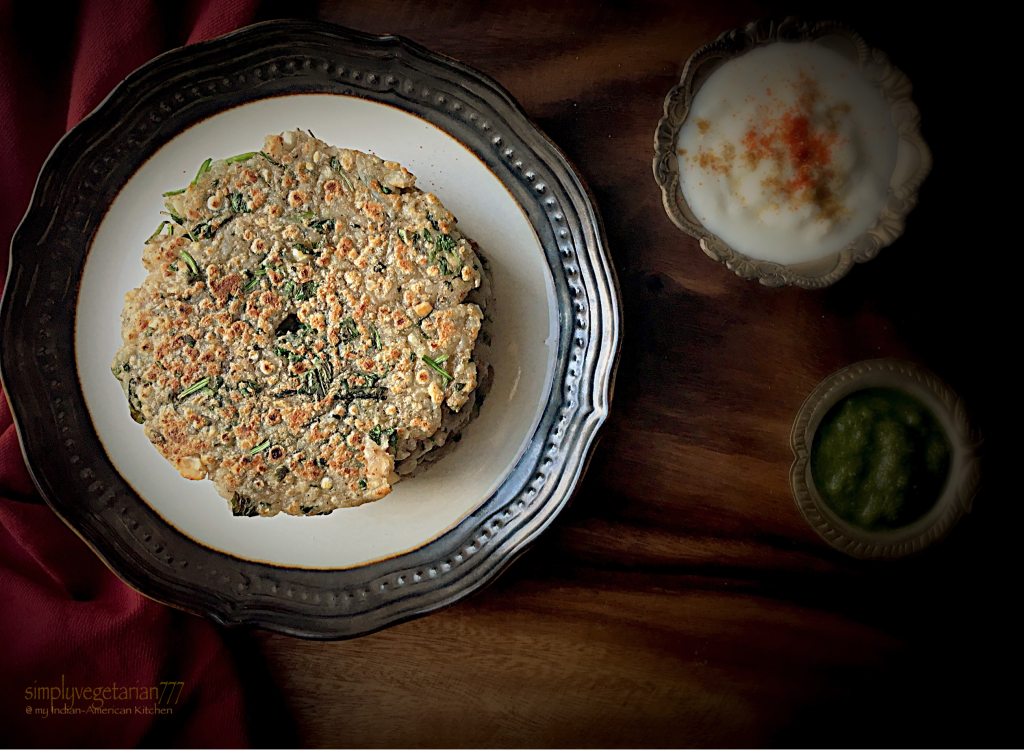 Paneer Sabudana Thalipeeth / Cheese Sago Flat Breads
A gluten free delight made with Indian cottage cheese, Potatoes, Sabudana (tapioca pearls) and fresh herbs and spices. A perfect recipe for Navratri fasting or otherwise to treat family and friends.
Ingredients
Boiled Potatoes - 1 medium

Sabudana

tapioca pearls - 1/4 cup, soaked for about an hr. It will double in size after soaking.

Paneer - 2 tbsp

shredded

Singhada atta or Water Chestnut Flour - 1&1/2 tbsp. I used Kuttu ka atta

buckwheat flour

Peanuts - 2 tbsp

dry roasted and crushed coarsely

Mint Leaves - 1 tbsp

chopped fine

Coriander / Cilantro Leaves - 2 tbsp

chopped fine

Green Chillies - 2

finely chopped
Oil & Spices
Cumin Seeds - 2 tsp

dry roasted and crushed

Sendha Namak - 1/2 tsp or to taste

Lemon juice of 1/2 lemon.

Vegetable Oil for pan frying
Instructions
In a mixing bowl add mashed potatoes, grated paneer, Sabudana, roasted cumin seeds, sendha salt, green chillies, chopped cilantro leaves, chopped mint leaves, crushed peanuts, water chestnut flour and lemon juice.

Combine all well and knead into a dough.

Water is not needed in this dough preparation. Knead to form a dough. Hold them in refrigerator for 30 minutes for better handling.

Divide the dough into 5-6 equal portions.

Wet your hands slightly and take the dough ball in your hands, give round shape.

Take a kitchen napkin or wax/parchment paper and put the patted dough in it, gently pat it in a circular motion to form a Pan Cake of about 4 inches in diameter.

Heat nonstick pan or tava on medium high temperature.

Gently remove the patted thalipeeth or pan cake from napkin and transfer it onto a non stick hot tawa.

Pan roast them on medium flame for 2-3 minutes, each side and cook till golden brown. Apply little oil on both the sides for crispier texture.

Serve it hot.
Notes
Make these Thalipeeth fresh. Do not cook in advance and keep for later.
Similarly, the dough can not be kept for later.
Best eaten when served with fresh yogurt and Green Chutney.
I haven't had such filling meal in a while. It was just perrrfect. Had an amazing time creating these Paneer Sabudana Thalipeeth / Cheese Sago Flat Breads, Gluten Free in my Indian American Kitchen. I am sure you would too. Try it, till Navratris still last.
Sonal