Rawa Upma Instant Pot Recipe – Savory Semolina Pudding
As an Amazon Associate and member of other affiliate programs, I earn from qualifying purchases.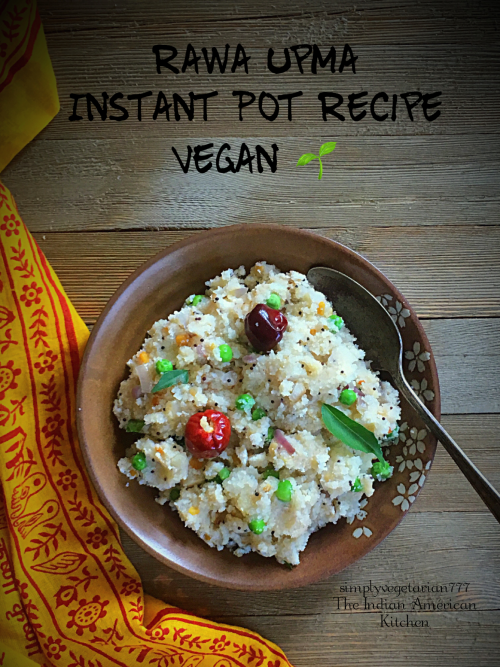 Rawa Upma Instant Pot Recipe is such an easy breezy recipe that is flavorful and done in no time. It is a popular breakfast and snack recipe from India. You can pack it for lunch boxes as well. The best part is that it is completely VEGAN RAWA UPMA RECIPE.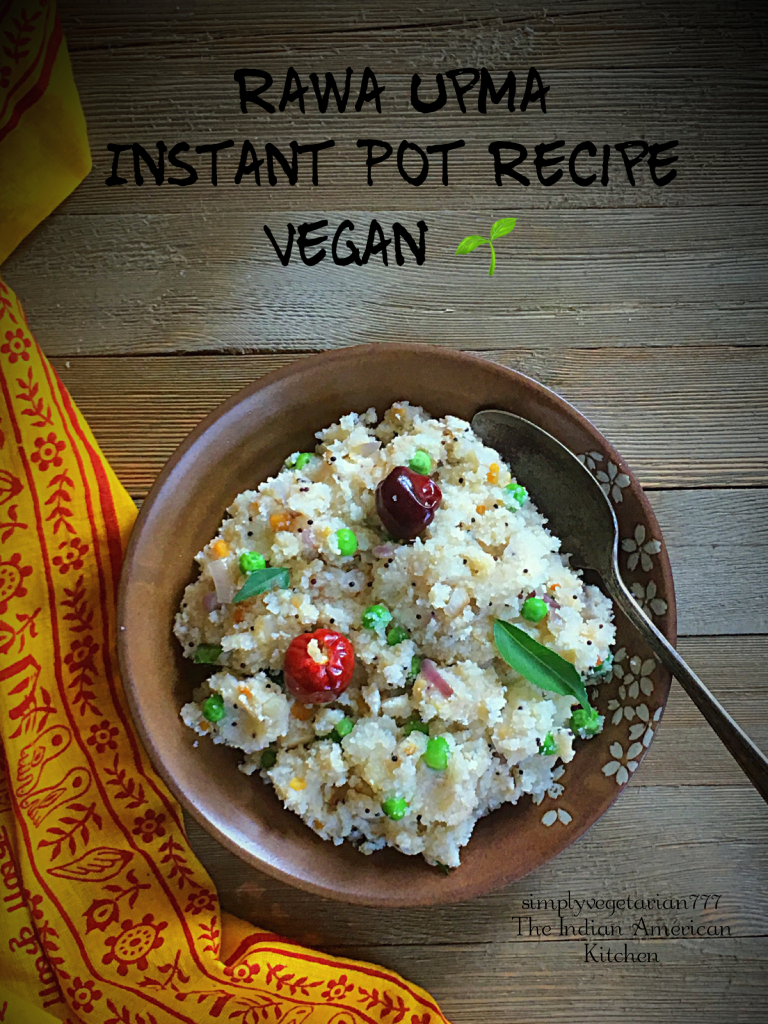 The Easy Vegan Rawa Upma Instant Pot Recipe
As I am writing this post, the smell of curry leaves and the onions being sauteed with them is making me go weak.
No No, I am not making it now, neither did I make it a few hours ago. But the thought of it is taking me to the soft comforting bites of this fluff called Upma. Every bite is so heartening and soothing that you want to keep stuffing your mouth.
This recipe is very simple and easy to make. Whenever I ask my Little M of her choice for the weekend brunch, her top pick is this NAMKEEN HALWA. This girl is hilarious.
My oldest Aanya doesn't like eating breakfast and always complain whenever I make her sit down to eat. She totally flips 180 degrees when I put Upma in front of her. Since I have mastered the art of making Upma in Instant Pot, I think it can be made on a regular basis.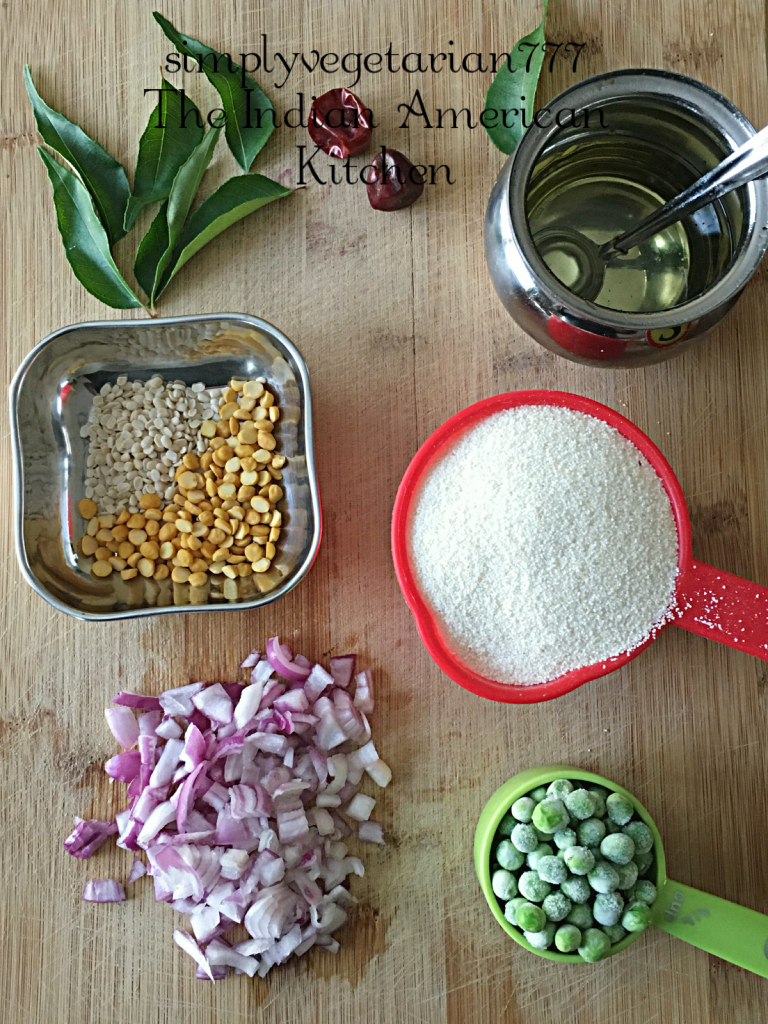 What is Upma?
Upma is a popular dish originating from the Indian subcontinent. It is a popular breakfast dish in Southern India, Maharashtra and Tamil families of Sri Lanka.
Upma is made with semolina. It is a savory semolina porridge consistency pudding seasoned with curry leaves, mustard seeds, and urad and chana dal. Either dry roasted semolina or coarsely ground Rice flour is used to make this recipe. If you are on a Glutenfree diet, use the coarse rice flour.
It is a fairly simple and easy recipe. Like Grits, it is hearty and filling.
It is a regional recipe and the seasonings may vary from region to region and even home to home. I think that is brilliant since the option of adapting and creating a variation is always exciting.
What is Rawa?
Rawa is Semolina. This semolina can be from coarsely ground wheat or Rice. Semolina or Rawa is also known as Sooji or Suji in many parts of India. Wheat Semolina is common in Northern Part and Rice Semolina is popular in Southern part of India.
Why is Rawa Upma a Vegan Recipe?
Sesame oil and Coconut oil are commonly used cooking oils in the southern Indian subcontinent. But we northerners have adapted to using regular cooking oil or olive oil. In my opinion, adapt and use whatever is good for you. Since there is no dairy used in the recipe, Rawa Upma is an ideal VEGAN MEAL as well.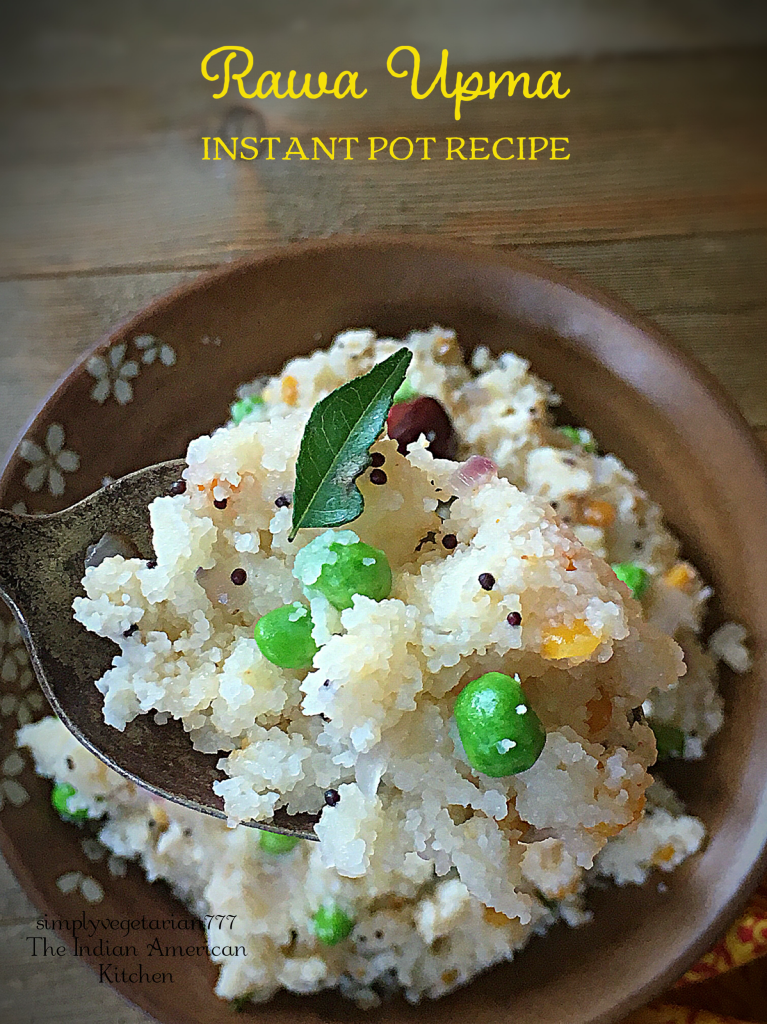 Why should you make Upma in Instant Pot?
I love making Upma in Pan and is a fairly simple and easy method. Here is my UPMA RECIPE on GAS TOP. But cooking it in Instant Pot has its own benefits.
It is a completely MESS FREE COOKING in Instant Pot. I hate it when those notorious mustard seeds start spluttering and are all over the place and sometimes hitting me. Eeks..do not like it at all. In Instant Pot cooking, there is no chance of these guys troubling me and making a mess. They remain contained.
When I make Upma in a pan, I have to attend it or rather babysit it. Cooking Upma in Instant Pot is a HANDS FREE and NO BABYSITTING COOKING. Just saute, place lid, set timer and done.
Another great value of making Upma in Instant Pot is the convenience of cooking. I am a busy mother who is a full-time blogger by the day and a mommy + driver + cook + the homework helper + the lady with ears to hear it all the complains and cries by the evening. I know I am not alone. But now, I can put Upma in Instant Pot for cooking and walk in and out of the house anytime. Whenever I come home, it is ready to be devored by the HUNGRY HOUSEHOLD. Yes, I make it for dinner also sometimes.
The cooking in Instant Pot is ONE POT COOKING. There is no pile of dishes in the sink and the Inner Pot is so easy to clean.
The food preparation and cooking is VERY EFFICIENT and is perfect for busy moms and professionals in today's day and age.
It is so SAFE TO USE, that even your teenager can use it as my daughter does.
IF YOU TRY Rawa Upma Instant Pot Recipe, THEN DO GIVE A SHOUT OUT ON OUR SOCIAL MEDIA –  FACEBOOK, INSTAGRAM, PINTEREST, AND TWITTER.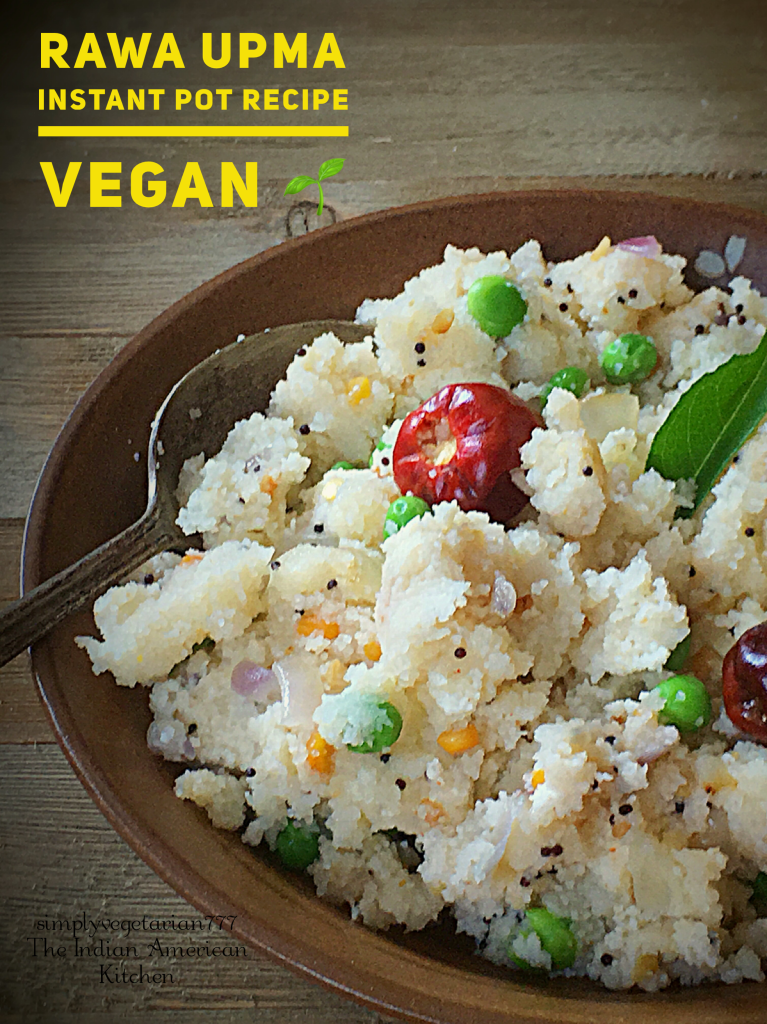 Other Vegetarian & Vegan Instant Pot Recipes from simplyvegetarian777
Chickpeas Curry and much more.
You can order the following Ingredients from amazon.com by clicking on the links provided. It will not cost you anything extra. Rather, this shall help me earn a small commission to keep the blog running.
Check out the attached VIDEO LINK on making the Rawa Upma in Instant Pot for better understanding.
This is how to make the Rawa Upma Instant Pot Recipe
Rawa Upma Instant Pot Recipe
Rawa Upma Instant Pot Recipe is such an easy breezy recipe that is flavorful and done in no time. It is a popular breakfast and snack recipe from India. You can pack it for lunch boxes as well. The best part is that it is completely VEGAN RAWA UPMA RECIPE.
Ingredients
1

cup

Semolina or Rawa/Suji (dry roasted)

1

small

Red Onion

finely chopped

10-12

fresh

Curry leaves or use 1 tsp of dry curry leaves

1/4

cup

Green Peas

frozen. use the petite ones if possibe

2&1/2 to 3

cups

Water
Oil & Spices
1

tbsp

Oil

1/2

tsp

Black Mustard Seeds

1/2

tbsp

Urad Dal

1/2

tbsp

Chana Dal

1-2

Whole Red Chilies dry

1 tsp or

to taste

Salt

1/2 tsp

or to taste

Red chili powder or Black pepper powder
Garnish
1

tbsp

Cashews

dry roasted

1

tbsp

Peanuts

dry roasted

some

chopped

cilantro/coriander leaves
Instructions
Gather all your ingredients. Watch the Video above for better understanding before you start cooking.
SAUTE MODE
Place the inner pot inside the Instant Pot. I used my 3 quarts Mini DUO Instant Pot. Plug it in and press the SAUTE MODE to set for 5 minutes.

Once the screen displays HOT, add oil to it. Wait for few seconds and then add mustard seeds, urad and chana dal. Give it a good stir and then add curry leaves + whole red chilies. Give another good stir.

Now add the finely chopped onions. Stir again. Cover the IP with a glass lid. I use any small pan lid for this purpose. Let the onions soften up for 2 minutes. Now remove the glass lid.

Give onions a stir. Add green peas, rawa or semolina plus salt and pepper to the IP. Add water and stir again. Now re the water - if you want slightly dry upma, then use 2&1/2 cups water. And if you want slightly porridge-like consistency, then use 3 cups of water. Switch off the SAUTE MOE.
MANUAL/PRESSURE COOK MODE
Place the Instant Pot Lid and close it. Put the floating valve to SEALING. Set the TIMER at 1 minute on HIGH/MORE.

Once the pressure goes off, open the lid and stir again. SInce, the timer is set only for 1 minute, there is no real pressure built. As soon as it is done, you can open it.

If desired, garnish with cashews and peanuts. Serve it warm.

The best part is that you can put it on manual mode and leave the house for errands and can come back to this yummy upma. Make sure to cancel the KEEP WARM setting to avoid any burning later.
I am sure you will be trying this super easy and simple recipe soon. If you do, then do not forget to send me the feedback under the comments section. 🙂
Can't make it today? PIN VEGAN RAWA UPMA INSTANT POT RECIPE FOR LATER.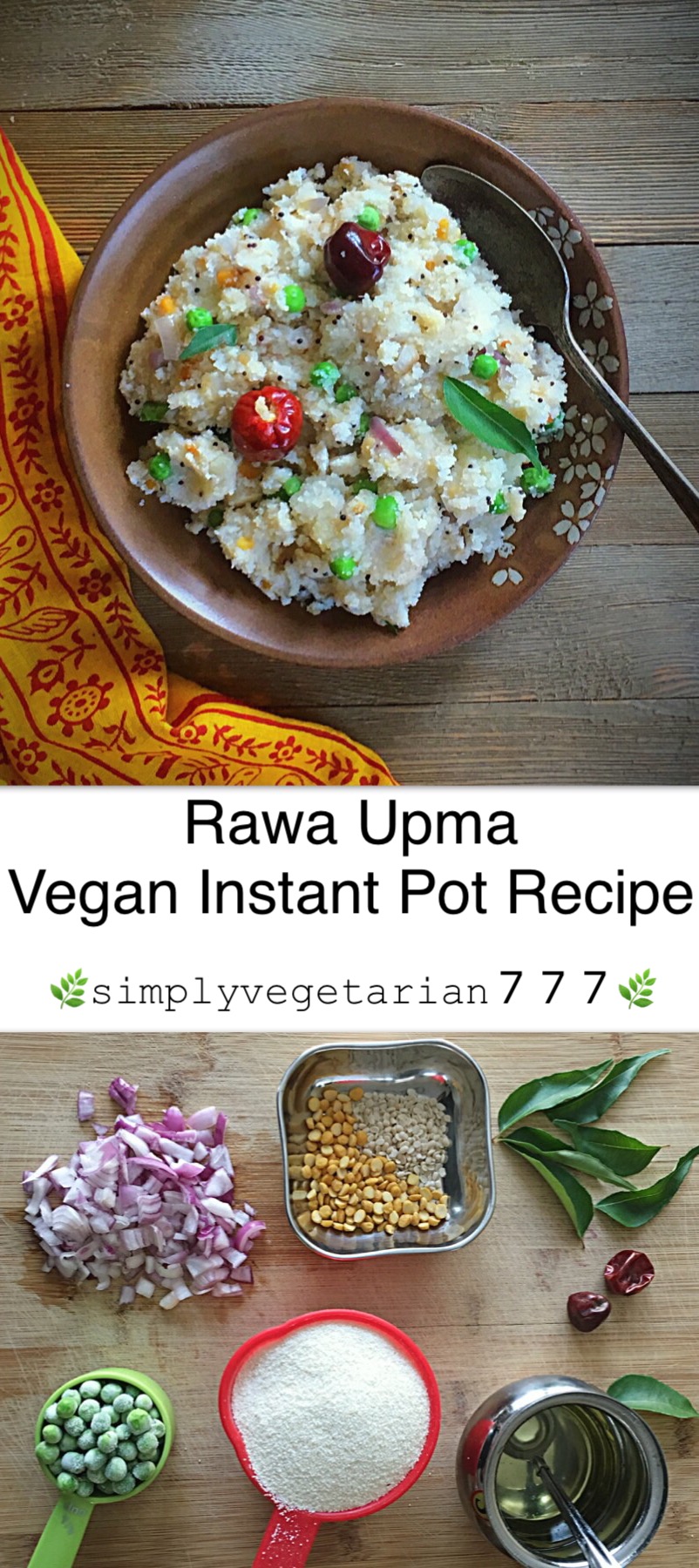 In my kitchen, you will always EAT HAPPY & STAY HAPPY!
Sonal