Vegan Omelette Easy Glutenfree Recipe
As an Amazon Associate and member of other affiliate programs, I earn from qualifying purchases.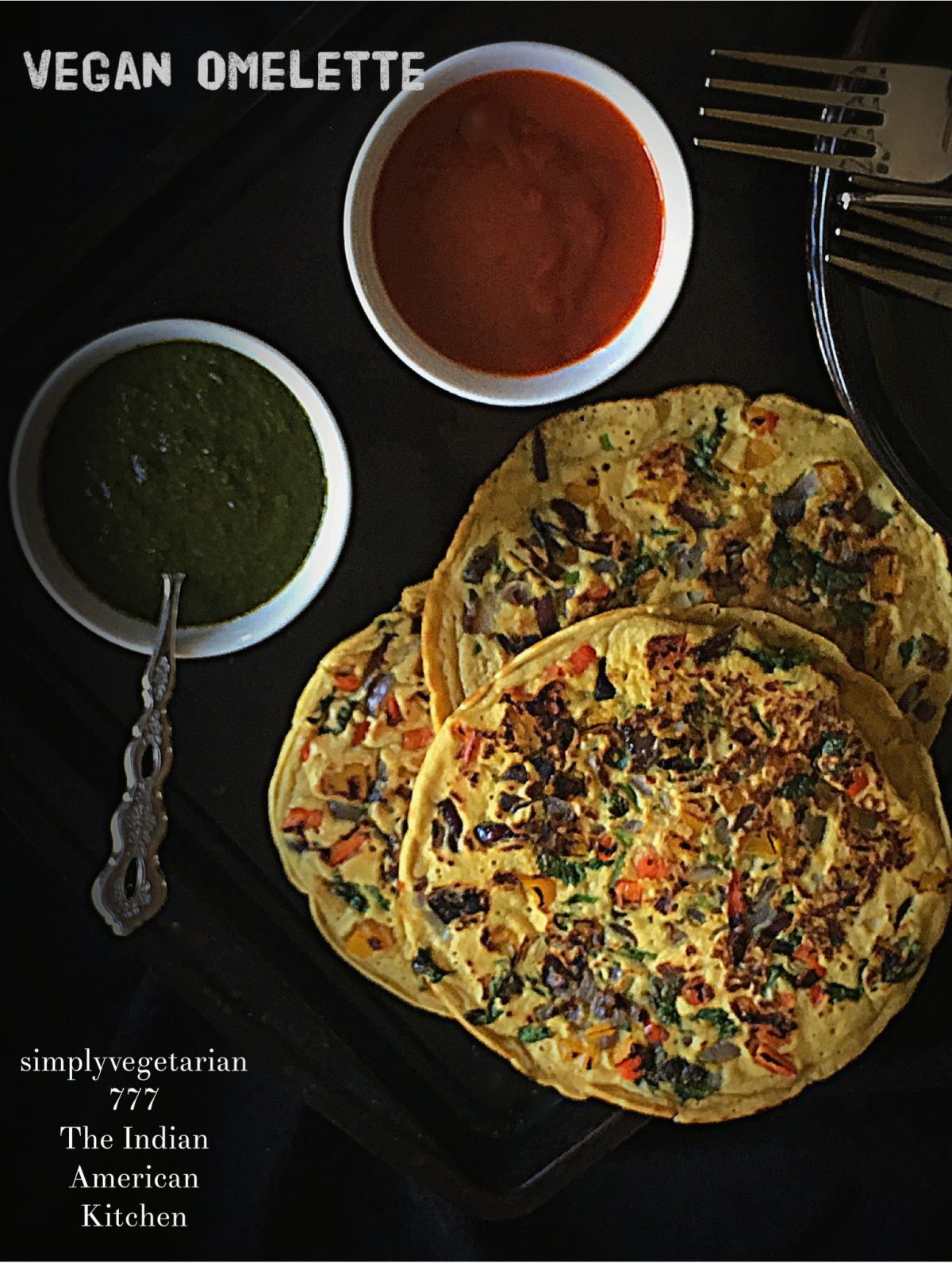 Vegan Omelette is a simple,easy and flavorful recipe made with Chickpea Flour. It is called Omelette because of its soft and fluffy texture that is similar to the one made with eggs. The best part is that it is Gluten free as well. It is a must try for sure.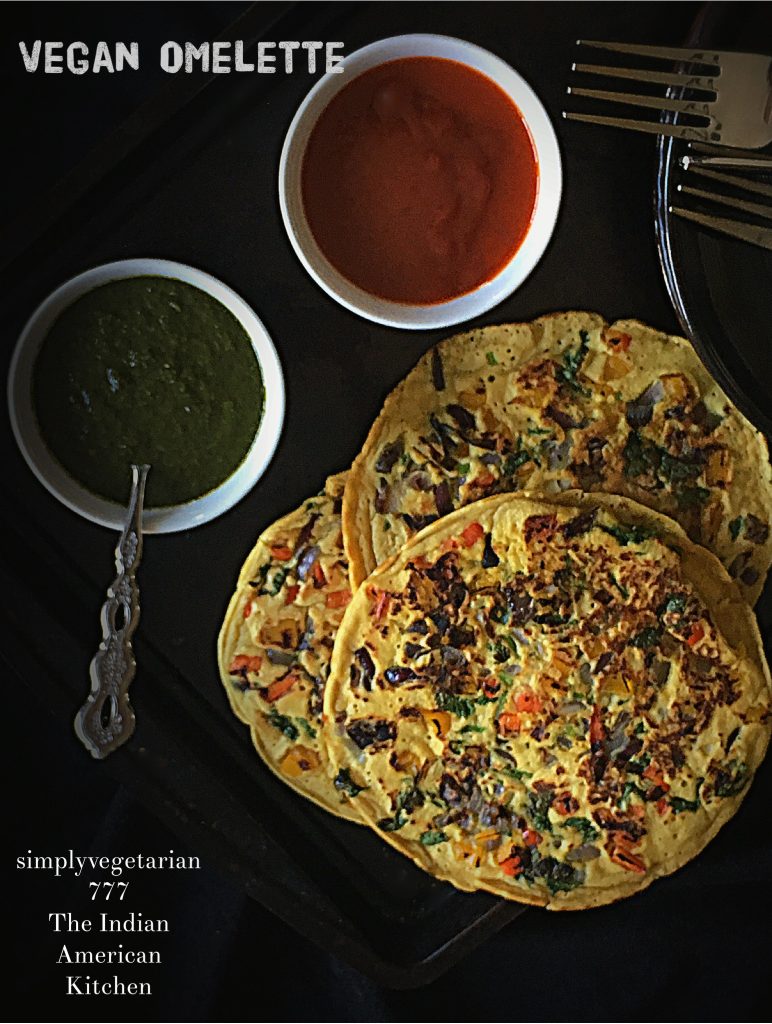 Vegan Omelette
This was my breakfast yesterday and I can say with yum pride that it was not only delicious but was very well executed.  I was in the kitchen and wondering what to make for breakfast and absolutely did not want anything regular.
Besan ka Cheela was on my mind but it sounded too boring so I planned to up the work a little bit. A crazy mind at work and the result was this awesomeness. I loaded it with vegetables and green chilies to spice up the fluffed cloud of yum.
Cheela is also known as Pooda or Poodla in other regions of India and is similar to Crepes in texture. Therefore, CHEELA = CREPES.
There are days when my creative side itches to create some magic with simple ingredients and not too much work. And I thank those days for inspiring me and pushing me out of my comfort zone to create comfort in my own kitchen.
Having said that I am sure that I am not the only one who has discovered this recipe. There might be plenty similar recipes floating around the net. So hats off to all those who have already tasted this magic.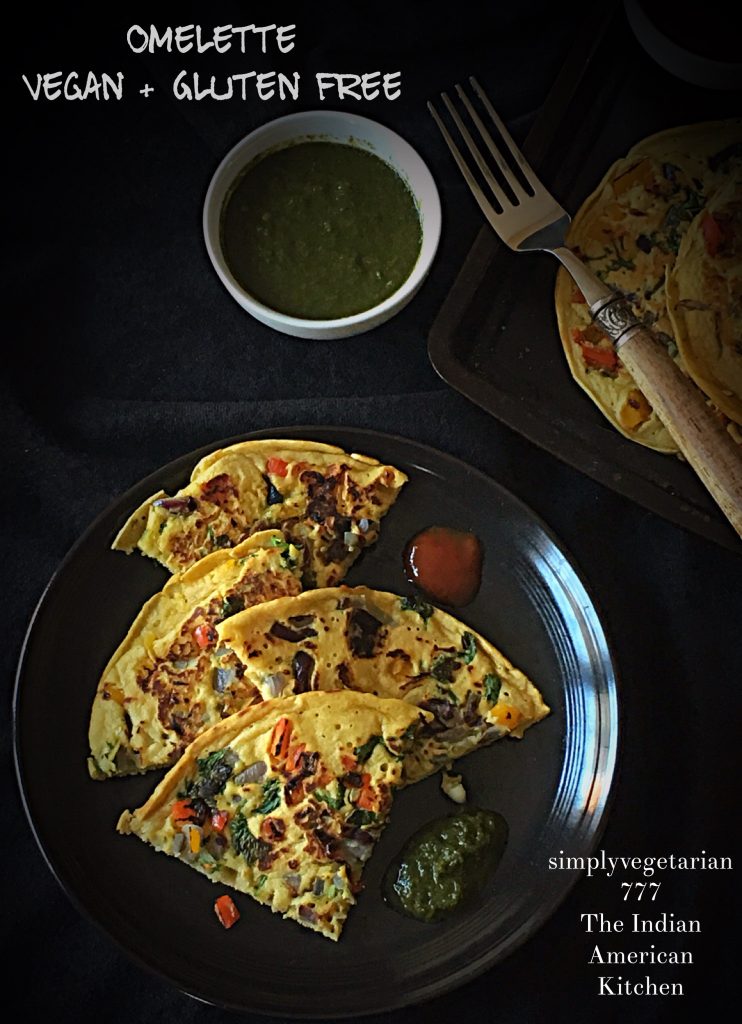 I think this recipe will be a great dish for your VEGAN GUESTS coming over for Easter Brunch. It is a super easy, super cool and chic to feed the crowd. This is such a great recipe that I am sure you will be repeating it. The best part is that you can adapt the flavors in this with your choice of seasonings and vegetables.
Vegan Omelette can easily be called as SAVORY PANCAKE, as well.
I am so in love with this recipe, because –
♥ Vegan Omelette is made with my favorite ingredient that is CHICKPEA FLOUR or BESAN.
♥ It is Vegan, a perfect recipe for Plant Based Diet Followers.
♥ This recipe is Gluten-free and perfect for you and me and for people suffering from Celiac Disease.
♥ The flour is a good source of minerals, protein and fiber.
♥ Besan is identified to keep the blood sugar and insulin balanced as compared to wheat and therefore is great for Diabetics as well.
♥ It is Heart Healthy and maintains cholesterol.
♥ Chickpea flour is cheaper than other gluten free options and keeps you full longer.
♥ This flour is perfect to make cheela / crepes, pancakes, fudge, dhokla, pakoda / fritters and much more.
The Recipes using Chickpea Flour / Besan are
This is how VEGAN OMELETTE is made.
Vegan Omelette
Vegan Omelette is a simple,easy and flavorful recipe made with Chickpea Flour. It is called Omelette because of its soft and fluffy texture that is similar to the one made with eggs. The best part is that it is Gluten free as well. It is a must try for sure.
Ingredients
1

cup

Chickpea Flour

1

cup

Water

1/4

teaspoon

Baking Soda

1/4

teaspoon

Baking Powder

1

teaspoon

Oil

To Taste

Salt and Black Pepper

1/4

cup

Onion

chopped fine

1/4

cup

Bell Peppers/Capsicum

chopped fine. use colored bell peppers if possible

1

clove

Garlic

chopped fine

2

tablespoon

Cilantro/Coriander leaves

chopped fine, optional

1

Green Chili

chopped fine, optional

1

tbsp

Oil for Greasing the pan and cooking
Instructions
Add Salt +Black Pepper+Baking soda+Baking Powder to the flour and mix well with a wire whisk. Slowly pour water and add 1 tsp oil to it. Mix ingredients with wire whisk to make sure that there are no lumps formed. Beat the batter with whisk wire for 1 minute to activate the baking soda and baking powder. It is kind of RUNNY BATTER. Set it aside for 4-5 minutes till you chop your vegetables and gather other ingredients. When ready to cook, keep the batter and chopped vegetables ready.

Take a non stick or ceramic coated pan that is 5-6 inches in diameter. Put the pan on medium heat and then Grease the pan lightly with with cooking oil spray or with cooking brush. Once hot, add 1/3 or 1/2 cup of batter to the pan. Sprinkle the finely chopped vegetables on top of the batter.

Now cover the omelette with a lid and lower the heat to lower medium. Let it cook while covered for about 1&1/2 minutes.

Remove the lid. Spray the top of the omelette with some oil or use cooking brush to spread some oil on top.

Carefully loosen the edges with a wooden flat spatula and flip carefully to cook on the other side. Let it cook for another minute or so from the other side. Do not press it while it cooks or the fluff will be gone.

The Vegan Omelette is ready. Take it out and finish the rest of the batter likewise. It will give you 3-4 Vegan Omelettes. A good tip is to clean the pan with a wet paper towel after each omelette so that it doesn't burn. Serve it with some SPICY GREEN CHUTNEY or Ketchup or PICO DE GALLO/SALSA.
I am sure you all will be trying this recipe soon. This is perfect not only as your breakfast but as any meal of the day. It can be a great after school snack for your kids or pack for your work lunch.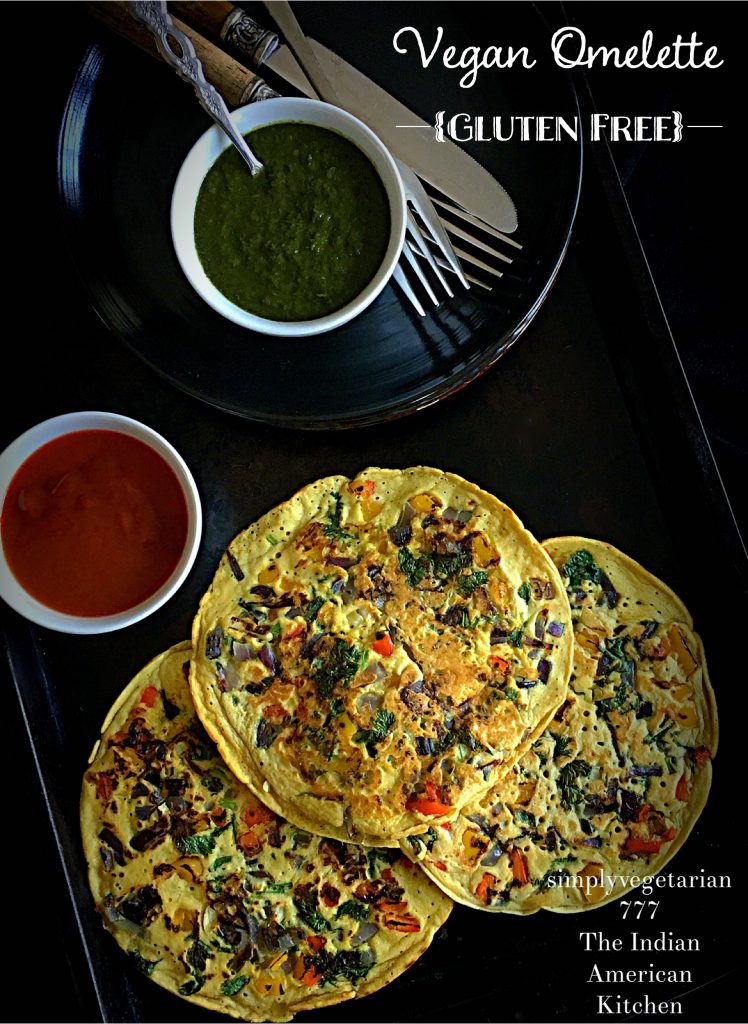 You can order the following from AMAZON to make this recipe. It won't cost you anythng extra.
Can't make it now? PIN IT FOR LATER!

In my kitchen, you will always EAT HAPPY & STAY HAPPY!
Sonal