Holi Recipes 2019
As an Amazon Associate and member of other affiliate programs, I earn from qualifying purchases.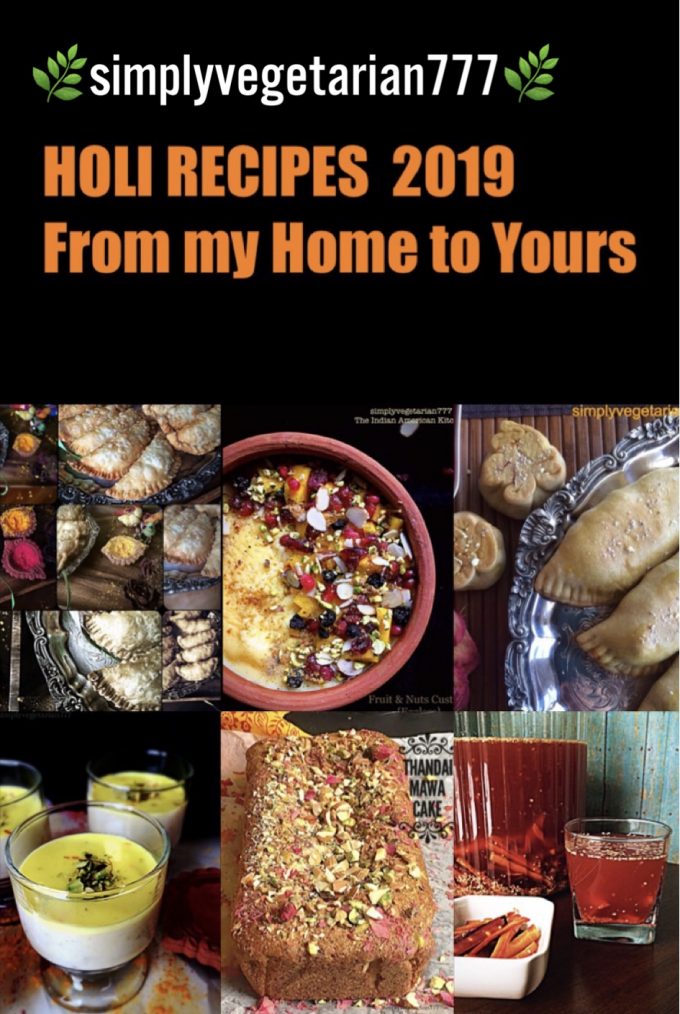 The collection of Holi Recipes for 2019 has delicious recipes from my kitchen. There is Gujiya recipe, Mawa cake, Thandai pudding and few others. Save and Share it with your family and friends.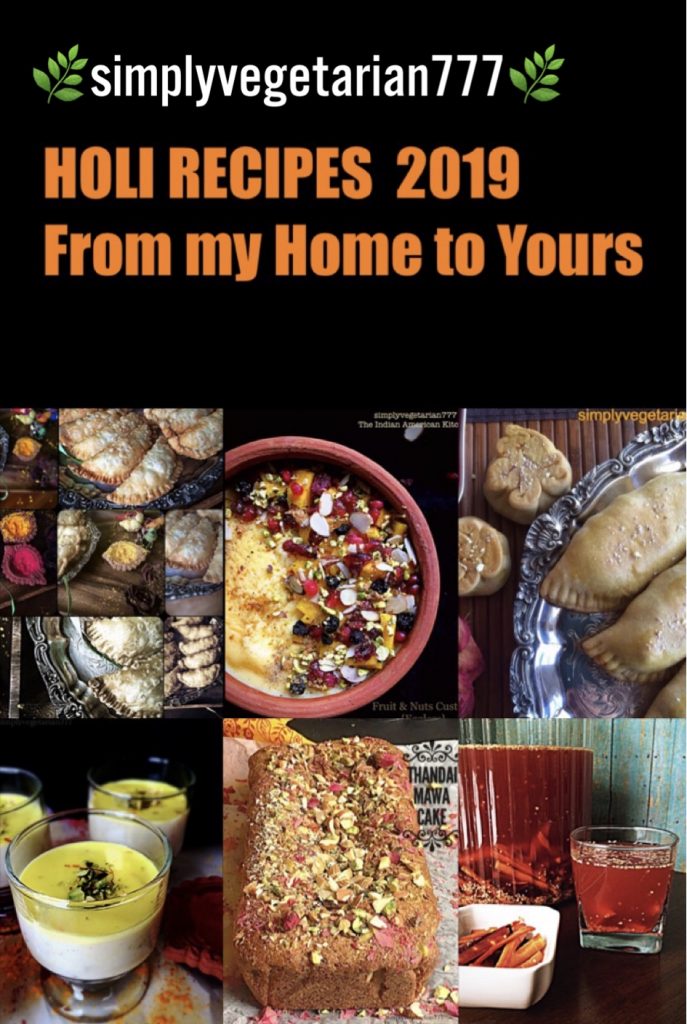 Home Style Mom Inspired Holi Recipes 2019
This Holi Recipes collection is very close to my heart. Normally I would be over the phone with mom, countries apart and discussing the RECIPES FOR HOLI.
There would be countless and long hours talks between us around the festival. We would be brainstorming the ideas about new recipes, thinking loud, dismissing more ideas and then agreeing on a few. She was excellent at making suggestions and the best part was that she knew it. Made me more miserable than the happier a lot of time. LOL.
Now my silent partner of recipes is gone, and my phone is silent, it is a big void to be filled. But I am not letting it go like that.
Since I need to feel her presence, I am making an attempt through this collection of RECIPES for HOLI.
Ma – this collection is for you.
IMPORTANT – Click on either TITLE or PICTURE to get the RECIPE.
---
This is the traditional recipe of GUJIYA also known as Karanji or Ghughra in other parts of India. To all of you who are wondering, I am from Uttar Pradesh, the bustling state of India in North high on festivals and traditions.
When I say traditional, I mean the way MOM always made it at our home. There was no other way that I could have attempted this recipe. Nope, no modifications or adaptations.
This is as close as it can get to MOM-made GUJIYA. Filled with a delicate sweet filling of mawa, dry fruits, then deep fried to that perfect bubbled crust. Crispy and Comforting, yes that is what Gujiya means to me. I make it every year for my girls. They love it.
CLICK ON THE PICTURE FOR COMPLETE RECIPE.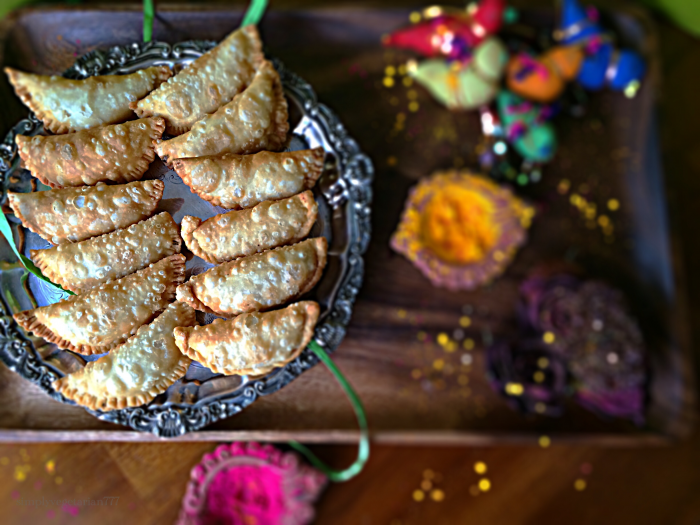 This recipe was my adaptation of the traditional Gujiya. It was March of 2014 and my first Holi for Blog. I was all into baking everything and cutting out fried in that phase of my life.
Therefore, I created this BAKED GUJIYA & MAWA POTLI for the blog. I must say that it was a successful adaptation. It has been tried by many people since then and liked equally.
Any adaptation of a recipe comes with a change of texture and one should be aware of it. Treat it as a recipe of its own league and go for it. Bake some and fry some.
I remember when I told mom that I baked Gujiya, her instant reaction was – why? lol. She mentioned that it is just once a year that you celebrate Holi, so go in full swing and indulge. I wasn't very happy to hear her comment. It was almost dismissive. But with time, we both learned to respect each others' boundaries and developed a better understanding of each others' approach towards cooking. I loved growing up with mom in this aspect of life.
CLICK ON THE PICTURE FOR COMPLETE RECIPE.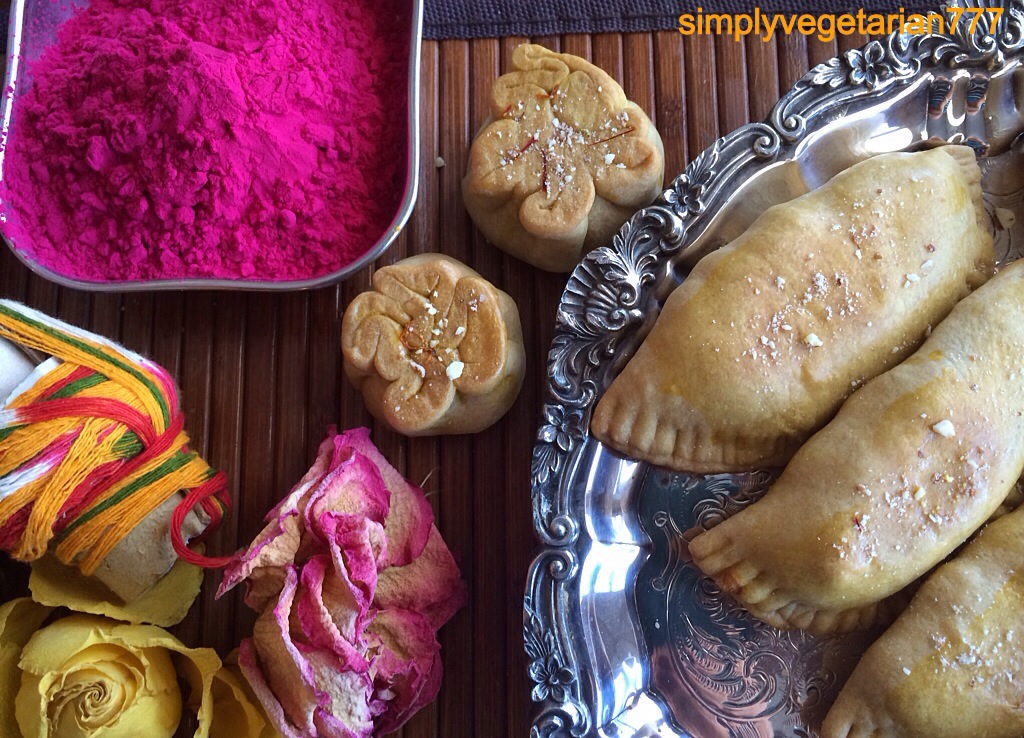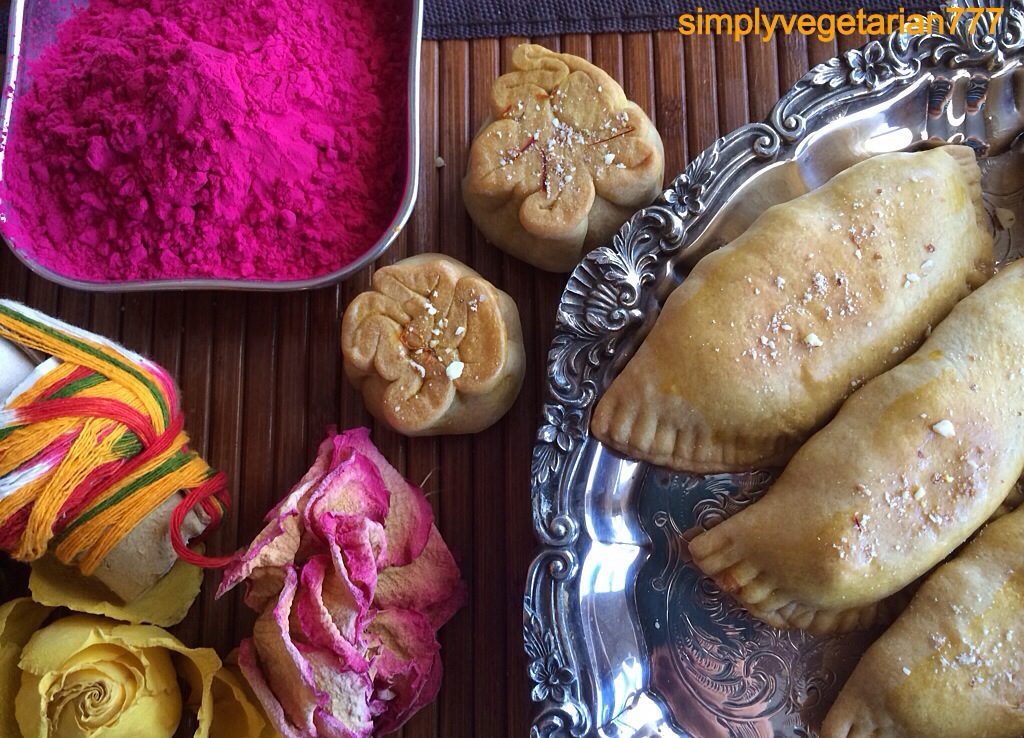 OMG Kanji is synonymous to HOLI in my part of the world. Mom would pour water and simple pickling spices in large earthen pots.
She would cover those pots with muslin, keep these in sun for natural fermenting. And then Kanji would be ready in a week or so after much await. Savoring every sip of it was and still is so fulfilling.
Kanji is a probiotic drink that is naturally fermented and is very popular in Uttar Pradesh. This again is how my mom made KANJI. She would often add small urad wadas to it. The kanji tasted like a bomb. I make it every year around Holi as well in the USA.
CLICK ON THE PICTURE FOR COMPLETE RECIPE.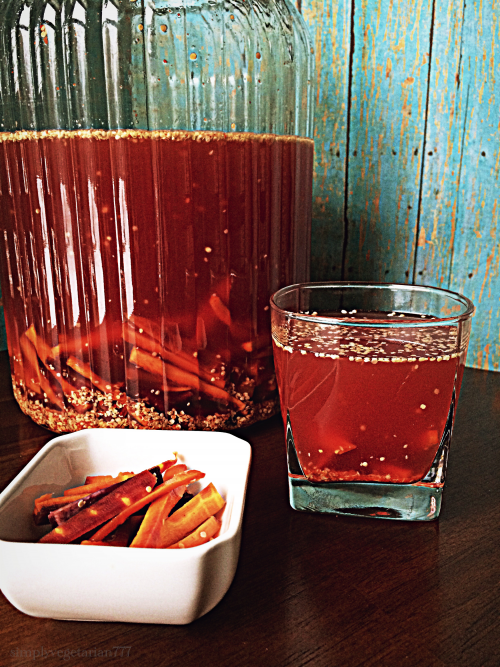 As far as my memory goes, the CUSTARD served in small earthen bowls was a regular feature for the guests on the occasion of Holi. My Baba (paternal grandfather) was very fond of it and my guess is that he started Custard as a customary dish to be served on Holi.
My mom and my aunt (chachi) would get up early and have all the stuff ready before HOLI PLAYERS start arriving at home.
It used to be a nonstop caravan of happy and Holi-zealous people on the day. And then you can imagine the amount of food prepared to make sure everyone gets what they desired. INDIAN HOSPITALITY is the best kind if you ever want to experience it.
I learned this CUSTARD from mom. Mom would make this custard very often.
CLICK ON THE PICTURE FOR COMPLETE RECIPE.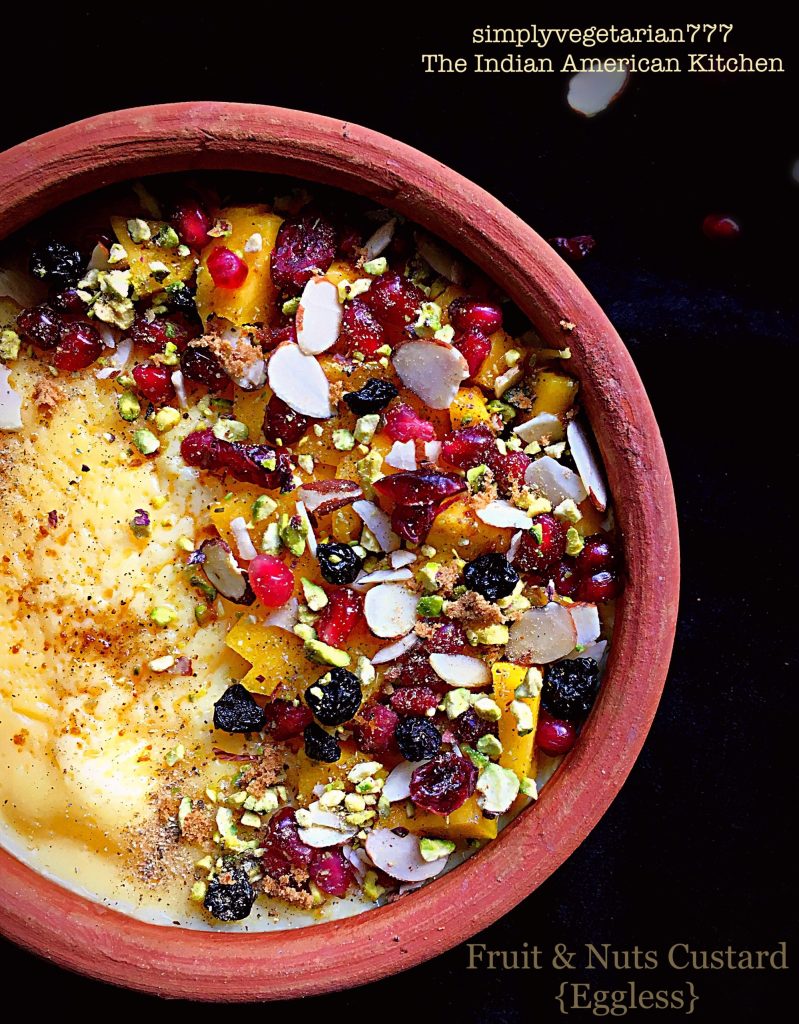 This recipe is from March 2015, another Holi post that I tried to make guilt-free. It was a phase of PANIYARAM PANS. This is a close cousin of Danish Abelskiever Pan using a similar technique of cooking.
The only way of eating FRIED FOOD was eating it like fried food. There was no other option until I discovered South Indian Paniyaram Pan. Honest to God, I had no clue about it before that.
DAHI PAKODI is my all time favorite and was not a regular feature on Holi Menu. But it did make an occasional appearance. Seriously I can't keep a track of the amount of it I can devour in one sitting. There is never enough. Therefore, making these in Paniyaram pan was a blessing for this glutton of me.
I conveyed the idea to my mom of getting into healthier cooking. She seemed slightly convinced and tried once.
When I checked with her, she said – NEVER AGAIN! The healthy part is ok. But the amount of time it takes to get done in this pan is not my cup of tea. I would rather fry and get done with it faster. Yes, that was my mom. LOL. She lacked patience in the kitchen yet was a brilliant cook.
CLICK ON THE PICTURE FOR COMPLETE RECIPE.
I know it is a horrible picture but is an amazing recipe. Tried and tested by many. My photography has improved tremendously in the last 6 years.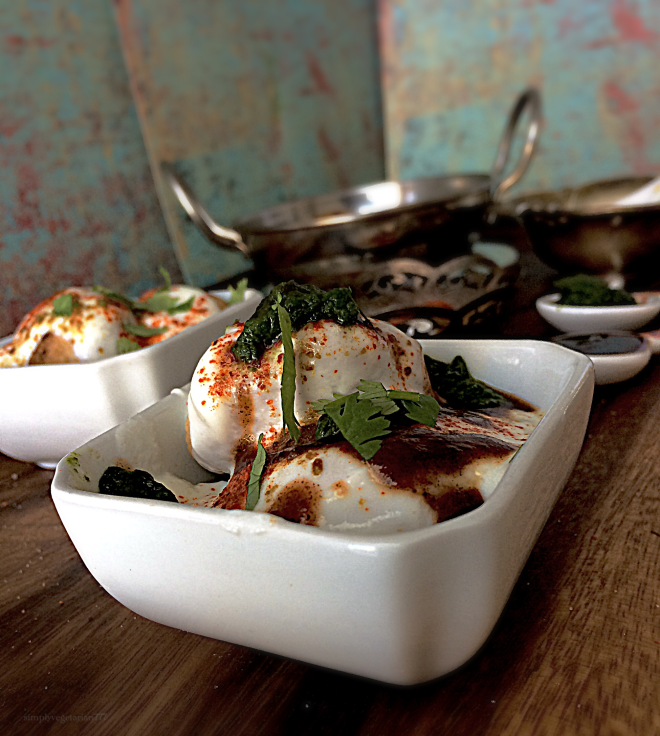 CHIDVA aka chiwda and Chevda was another regular feature on HOLI MENU every year. My mum would deep fry every single ingredient separately with "patience". And would mix all of it together with seasonings. This would get stored in large steel containers and would be relished for many days to come.
When we moved to the USA 18 years ago, I tried making it myself for the first time. The amount of oil that flat rice soaked up made me swear never to fry it again.
Then I found this convenient and healthier method of making the infamous chidva. That was the day and till today I have never deep fried my chidva.
As usual, I tried pushing my method with mom. Knowing pushy me, she retorted bluntly – Your Dad doesn't like it dry roasted. He likes his food the real way. OMG. I got her point and didn't push her further. LOL.
I am much like her when it gets to being pushed. You push me and I won't do it. Yup, that's me.
Though it is a healthier version, the flavors and textures are still intact.
CLICK ON THE PICTURE FOR COMPLETE RECIPE.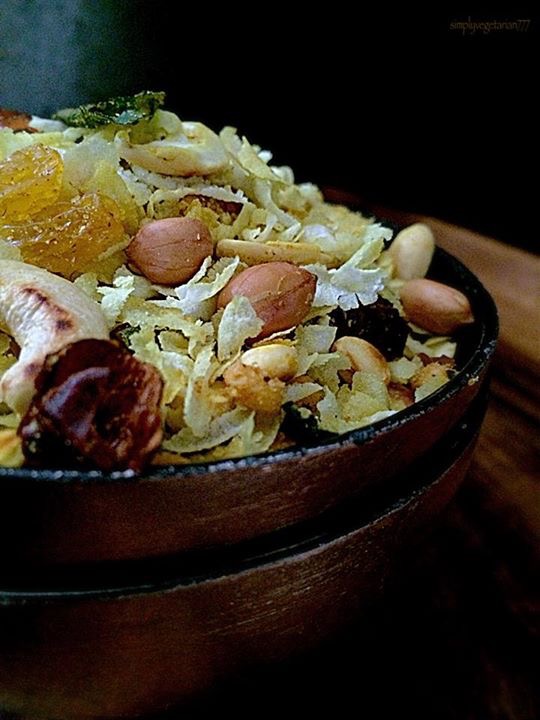 This is my own trial of dry roasting the Corn Poha or Unsweetened Dry Corn flakes and creating The CORN CHIDVA.
Indian Snack market is filled with a variety of Chivda and one popular one is made with the Corn Poha. We love the market version of Deep Fried Corn Chidva. And then I tried this dry roasted version. It worked very well. It is crispy and bursting with flavors.
Now I alter between the 2 popular Indian Trail Mixes at home.
CLICK ON THE PICTURE FOR COMPLETE RECIPE.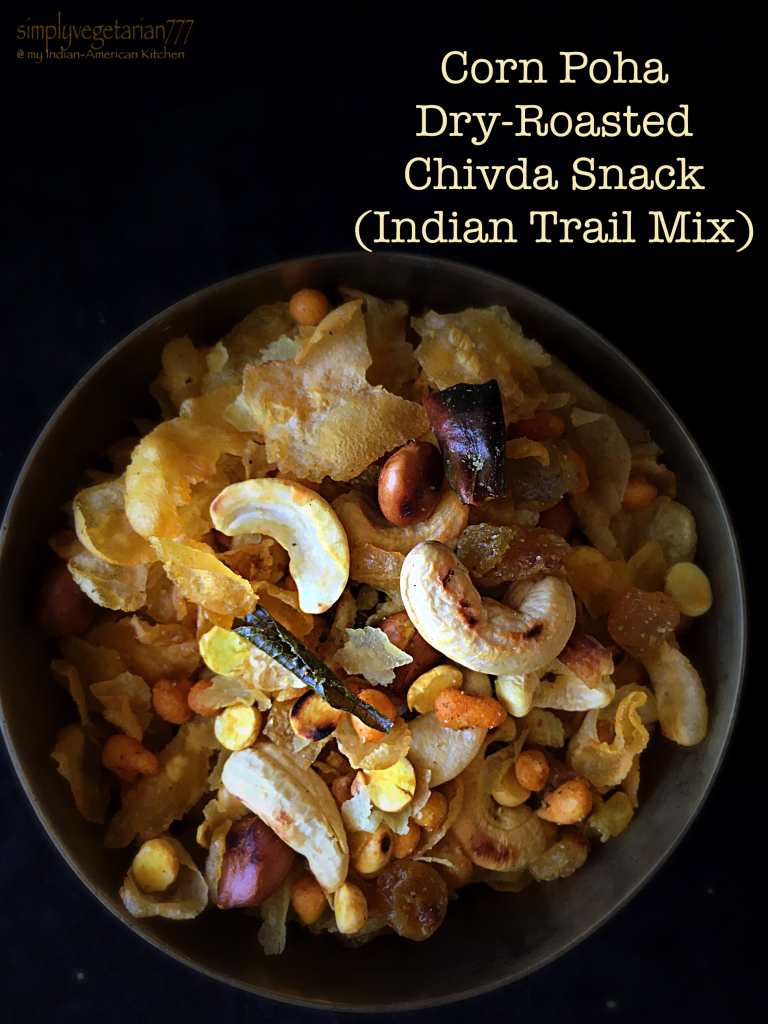 If you know me, then you might have always heard me saying that NORMAL IS BORING.
When everyone is busy making THANDAI for HOLI, I am raking my brain to come up with something more fun. And this THANDAI PUDDING is the result of one such fun time creating a fusion recipe.
Yes, this is a fusion recipe where I created Pudding using Thandai flavors and then adding saffron sauce and nuts on the top. It was just mind-blowing.
This is another much-loved recipe from the blog. I told mom over the phone about it explaining the concept. She was really proud of this one.
I wish I had time to make it for her for real. But I know her force is with me in coming up with crazy fusions.
CLICK ON THE PICTURE FOR COMPLETE RECIPE.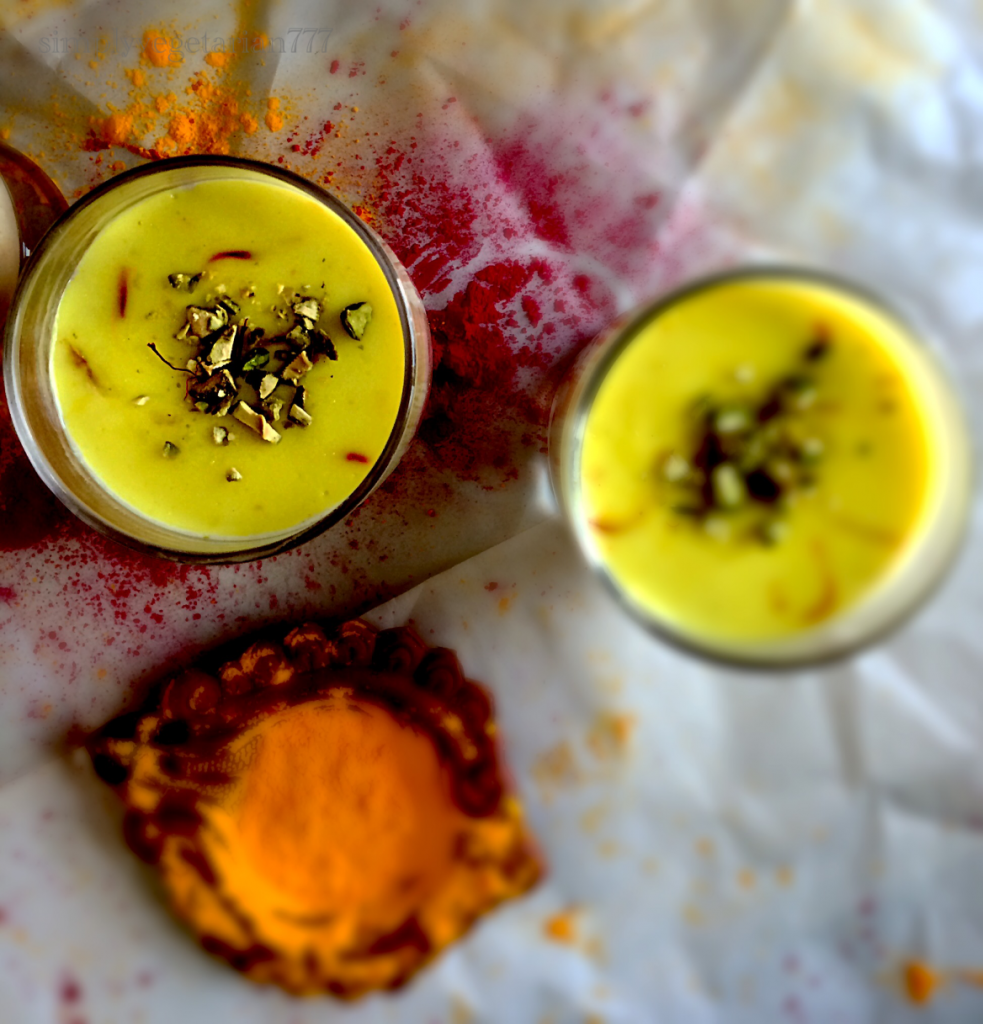 Eggless Thandai Mawa Cake was developed by me last year before HOLI. The flavors of Thandai in a MAWA CAKE are delicate and complex at the same time.
I actually baked it a few times around the festival to make sure that everyone got a chance to taste it. People tried it and they loved it. If you are adventurous enough, then go for it. It is bursting with flavors.
When I shared the concept and recipe with mom, she was pleasantly surprised. A master baker herself, she was actually delighted to know about it. Yes there were times, when we happily agreed with each other.
CLICK ON THE PICTURE FOR COMPLETE RECIPE.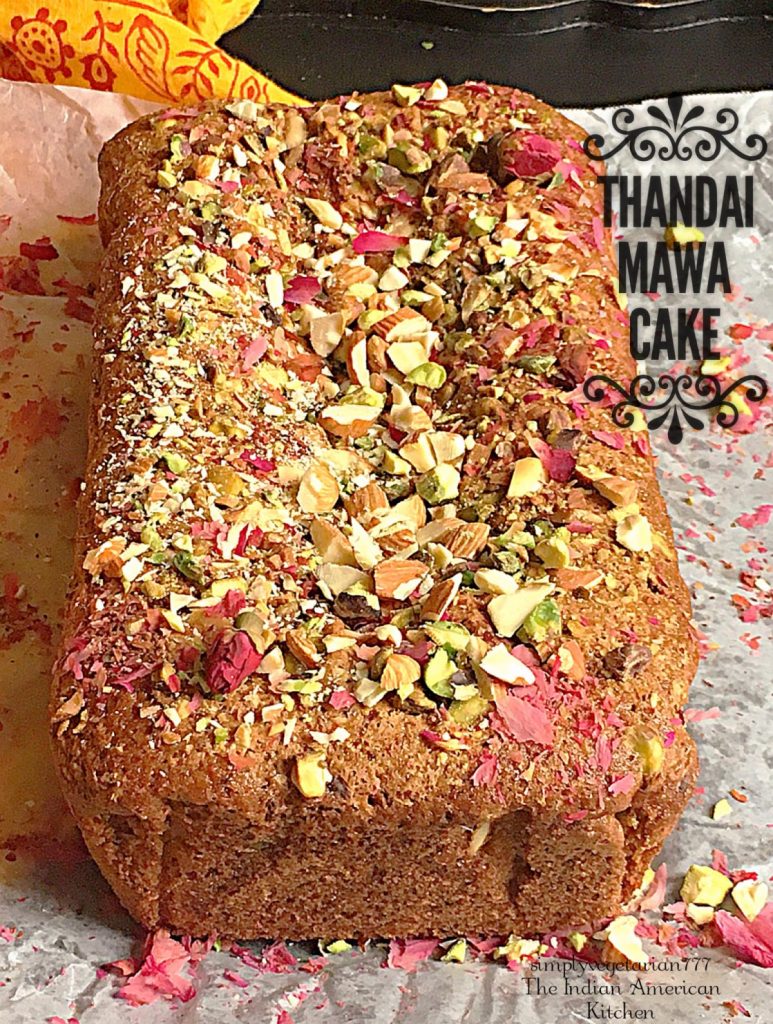 These Kesar Pista Elaichi Biscuits are one of my personal favorites that I bake often around the HOLIDAYS, be it an INDIAN holiday or AMERICAN.
These cookies are such a delicate fusion combining Indian Festive flavors in BUTTER COOKIES. Baked to perfection these are really delightful.
CLICK ON THE PICTURE FOR COMPLETE RECIPE.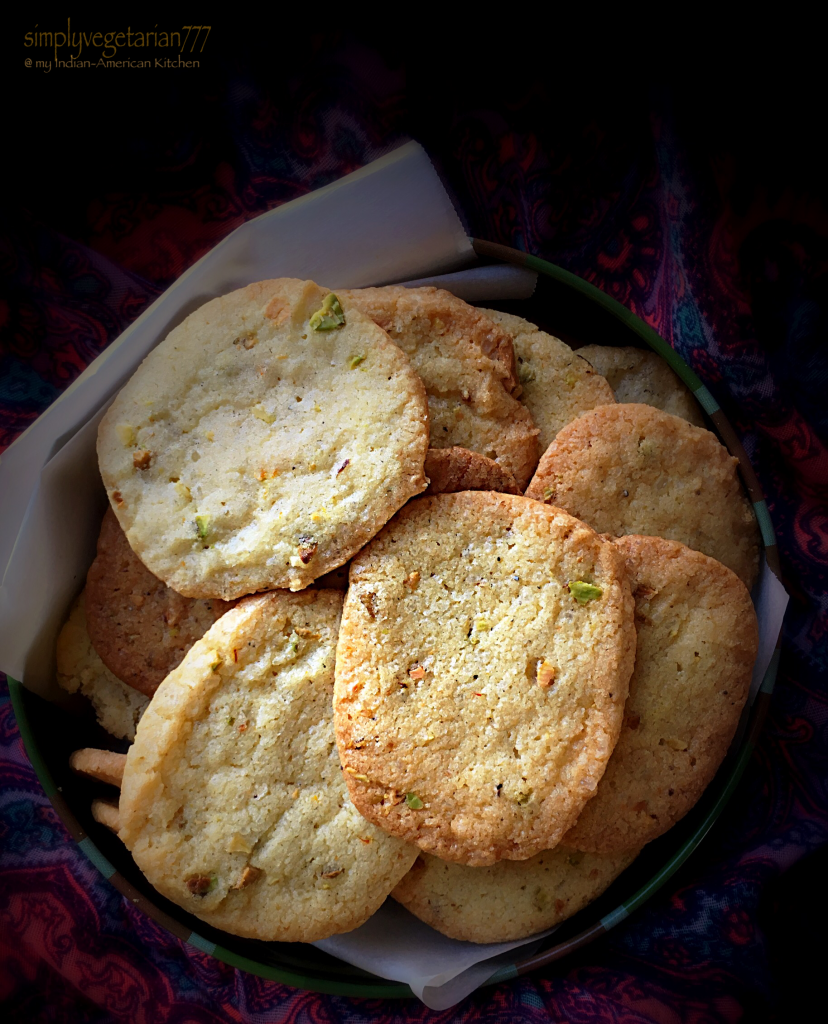 CHECK OUT THE HOLI COLLECTIONS FROM MY BLOG FROM PREVIOUS YEARS –
Dessert Recipes for HOLI COLLECTION 2017
WISHING EVERYONE A VERY HAPPY HOLI!
SONAL