Easy Thandai Mawa Cake Eggless Recipe
As an Amazon Associate and member of other affiliate programs, I earn from qualifying purchases.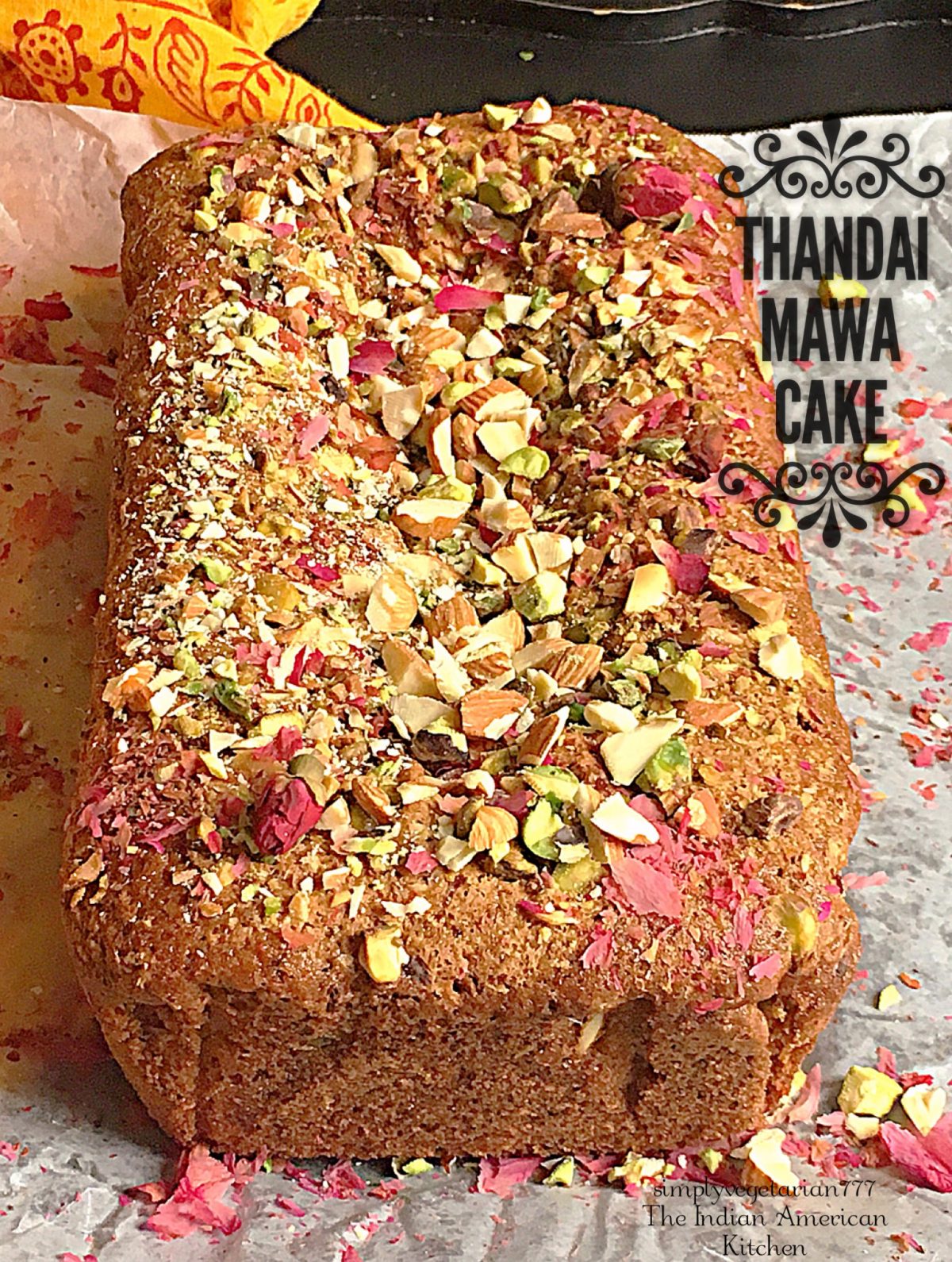 Thandai Mawa Cake is an easy to make recipe that is egg-less as well. It is a very rich cake that tastes like Indian Mithai and is very decadent. This cake is a fitting recipe to celebrate Indian festivals with the flavors of Thandai infused and Mawa (milk solids) used.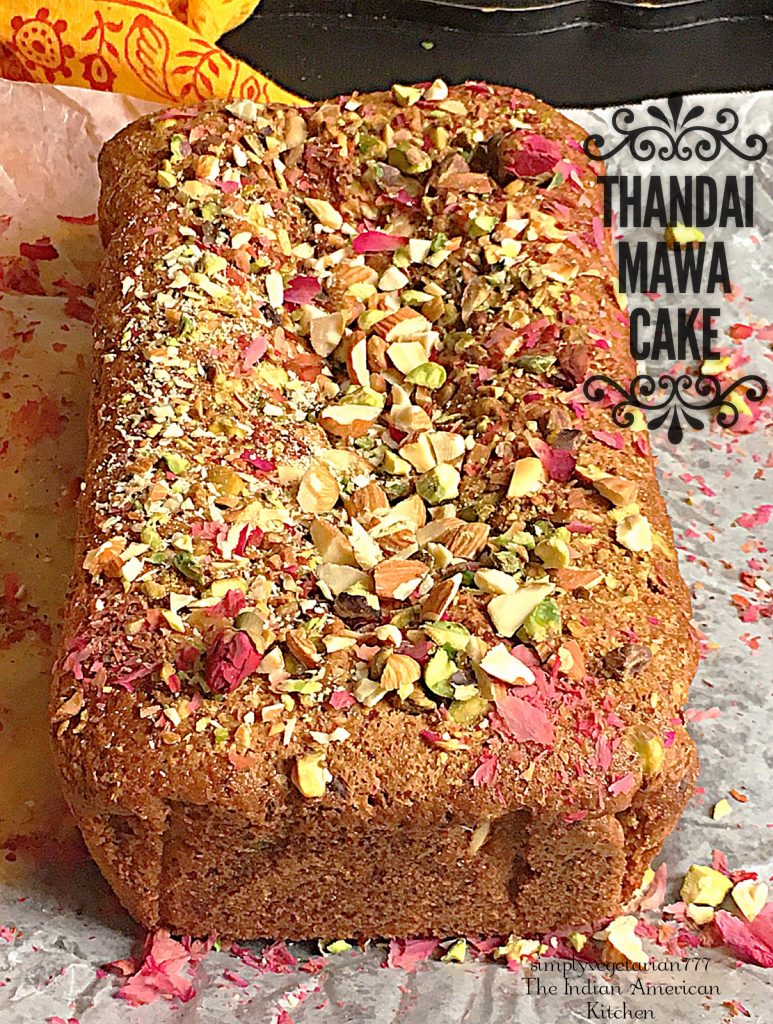 Thandai Mawa Cake
I always get high on life when the FESTIVAL of COLORS, HOLI is around the corner. Holi is on 1st and 2nd of March this year (2018). Though Pittsburgh is still shivering under winter blues here, I have got the reason to feel spring-like. Yes, that's the magic of Holi. Since Childhood, I have loved this festival more than any other festivals. I still remember the eagerness and zest to color everybody in the family, inlcuding myself with Gulal and Abeer.
Few HOLI Facts
The festival of Holi is celebrated for 2 days. HOLIKA DEHEN is observed on the first day and DHULENDI, the fun COLOR DAY is the 2nd day of the festival.
It is a popular festival celebrated in the states of Uttar Pradesh and Rajasthan. With its popularity, it is now celebrated all over the world by NRIs (Non Resident Indians).
Holi is a Hindu Festival from India, where folks celebrate victory of good over evil and to welcome SPRING. On this day, people believe to forgive each other and mend relationships, have fun together, crack jokes and laugh out loud. Holi fills the homes with zest and happiness.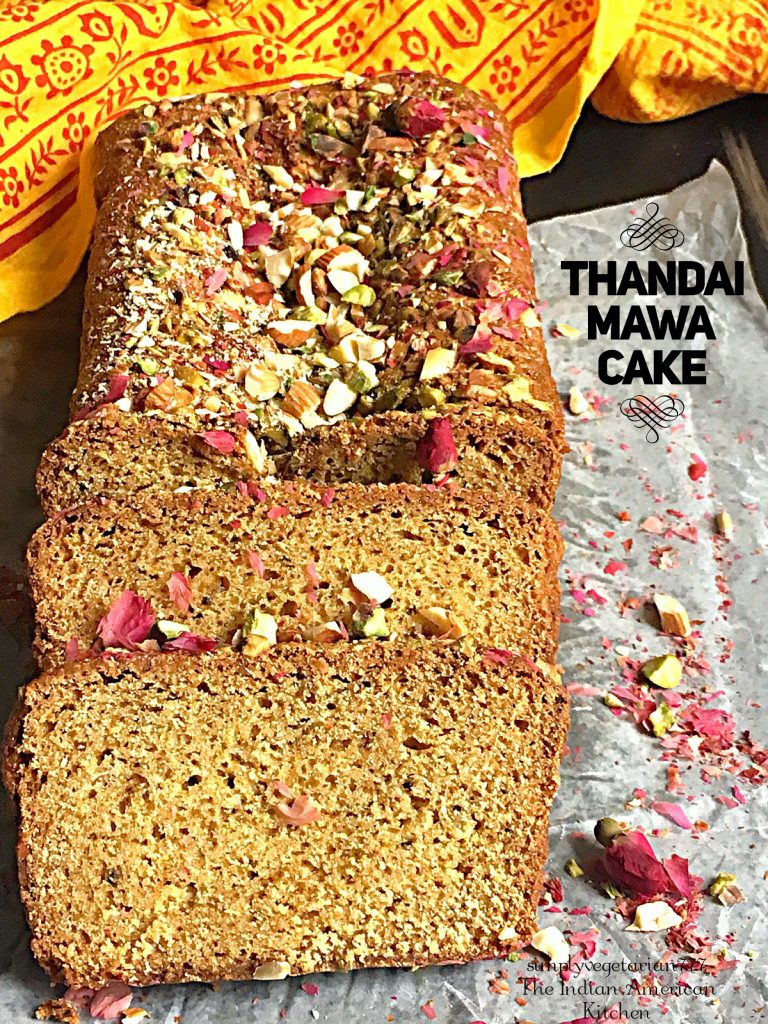 Few FACTS about THANDAI MAWA CAKE
It is not a traditional cake but a fusion cake. You can call it as HOLI CAKE. This can be perfectly enjoyed as TEA CAKE.
I have incorporated THANDAI SPICE MIX in a Basic Cake. Thandai Spice Mix is a special spice mix relevant to Holi.
Addition of Mawa or Khoya makes it rich and decadent. Mawa adds Mithai Like Texture and Taste along with the spice mix and Rose Essence. To be precise, I felt like biting on Gulab-Jamun, when I tasted it. MAWA is Milk Solids. Check out this Gujiya recipe, to make Mawa at Home.
Do not expect Sponge like texture for this cake. It is not a Sponge Cake.
It might crack at the top while baking or may sink in the middle too. That is ok. All ovens are different and yield different results.
This is a great cake to bake for your HOLI PARTIES and enjoy something different. Take it as a Hostess Gift.
This cake does not require any special skills to bake. Just few ingredients and a cake pan to bake.
This is how you make the Thandai Mawa Cake.
Thandai Mawa Cake
Thandai Mawa Cake is an easy to make recipe that is egg-less as well. It is a very rich cake that tastes like Indian Mithai and is very decadent. This cake is a fitting recipe to celebrate Indian festivals with the flavors of Thandai infused and Mawa (milk solids) used.
Ingredients
Wet Ingredients
1/2

cup

Yogurt, thick

at room temperature

1/2

cup

Cooking Oil

1

tsp

Rose Essence/ Rose Water

optional

1

cup

Milk, warm

microwaved for 30 seconds
Garnish
2

tbsp

Almonds

roughly chopped

2

tbsp

Pistachios

roughly chopped

3-4

Dry Rose Petals

use organic
Instructions
Preheat the oven at 350*F or 180*C. Grease a 8 inches Cake Loaf pan with butter and Line with Parchment paper. Assemble all the ingredients together

Take a Large Bowl and add all purpose flour, corn flour, salt, baking soda, baking powder to it. Take a fork and mix it well. I would advise you to pass all the ingredients through a sieve for best results. Corn flour needs to be well incorporated with all purpose flour. Now add Thandai Spice Mix to the flour mix. Mix well with a fork again.

Take another big bowl. Add yogurt, oil and sugar to it. Take an electric beater and beat the mix on high speed for about 2 minutes. Sugar will be dissolved and the mix will be lighter. Now add Mawa/Khoya and Rose Essence/Water and beat it for another 1 minute.

Start adding Dry flour mix and warm milk alternatively in 3 turns to this wet mix. This means, add 1 part of flour mix and 1/3rd cup of warm milk to the wet mix and stir well. Now add another 1/3rd of the flour and then 1/3rd cup of milk and mix well. Lastly, add the remaining flour and 1/3rd cup of war milk and mix well. Make sure that the ingredients of cake batter are well mixed.

Pour this cake batter in greased pan. Sprinkle almonds and pistachios and few dry rose petals on top. Tap the pan on the counter few times to make sure that batter is well settled in the pan.

Place the pan in the middle of the oven. Bake it for 40-45 minutes till wooden pick comes out clean. Start checking the cake at about 38 minutes. All the ovens are different and the baking temperature will vary. This cake will have a brown color.

Once fully baked, take the cake out. Let it rest in pan for 5 minutes. Then carefully take it out and place on cooling rack. Enjoy the cake while warm.

NOTE - This cake tastes really amazing when eaten warm. You may microwave it for few seconds everytime before eating. It tastes amazing with tea and coffee. It is a perfect Tea Cake.

STORAGE - Store in an air tight container when completely cooled down. I would actually refrigerate it if not consumed the same day, since it has mawa in it.
I am sure that all the Cake Enthusiasts are going to try this recipe for Holi this year. You can't beat the taste of Mithai in a Cake. It's like double the gain. Make this cake for your HOLI PARTY and impress your guests.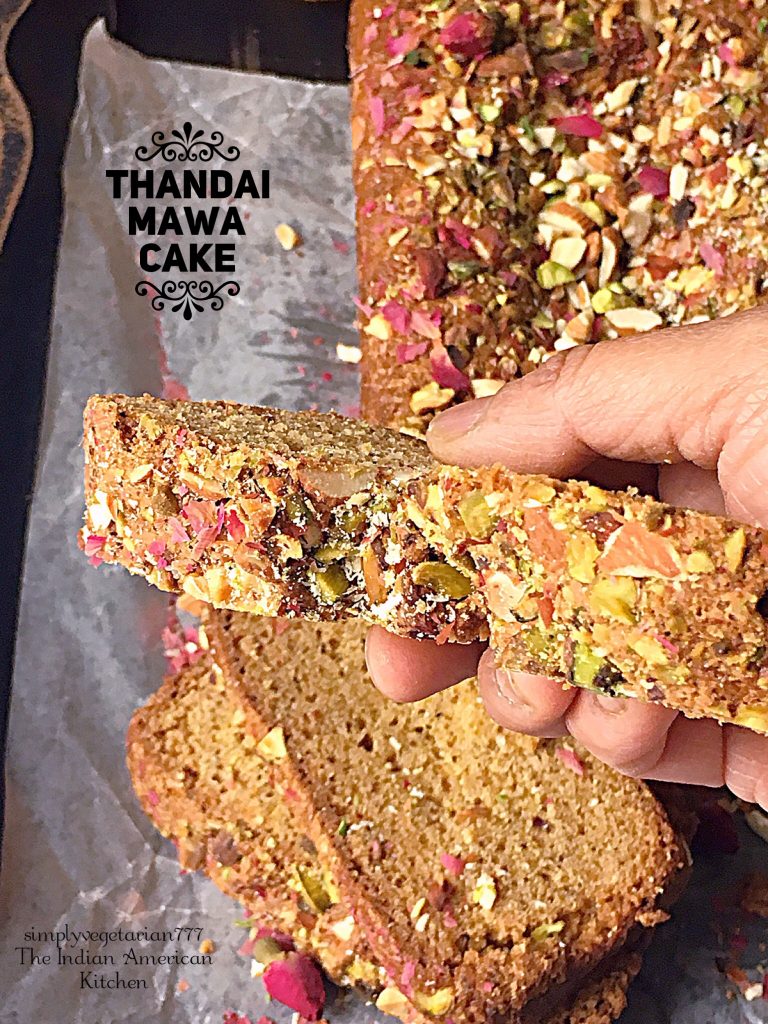 Few Ingredients and Equipment that you can order form AMAZON. It won't cost you anything extra.
Can't BAKE it now? PIN THIS CAKE FOR LATER!

In my kitchen, you will always EAT HAPPY & STAY HAPPY!
Sonal