Instant Pot Rice and Peas
As an Amazon Associate and member of other affiliate programs, I earn from qualifying purchases.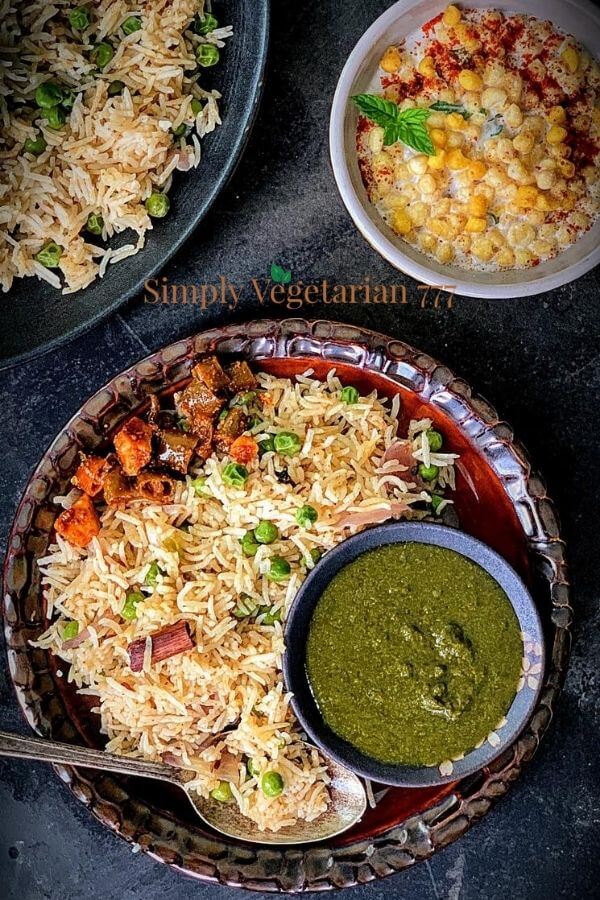 Instant Pot Rice and Peas is easy peasy & super yummy Rice Recipe ever.
It is a well known dish from Indian Cuisine, known as Matar Pulao or Peas Pilaf. The pilaf is bursting with the flavors of Basmati rice & whole spices used.
Important – Please scroll down to the bottom to find the Complete Recipe in a Recipe card.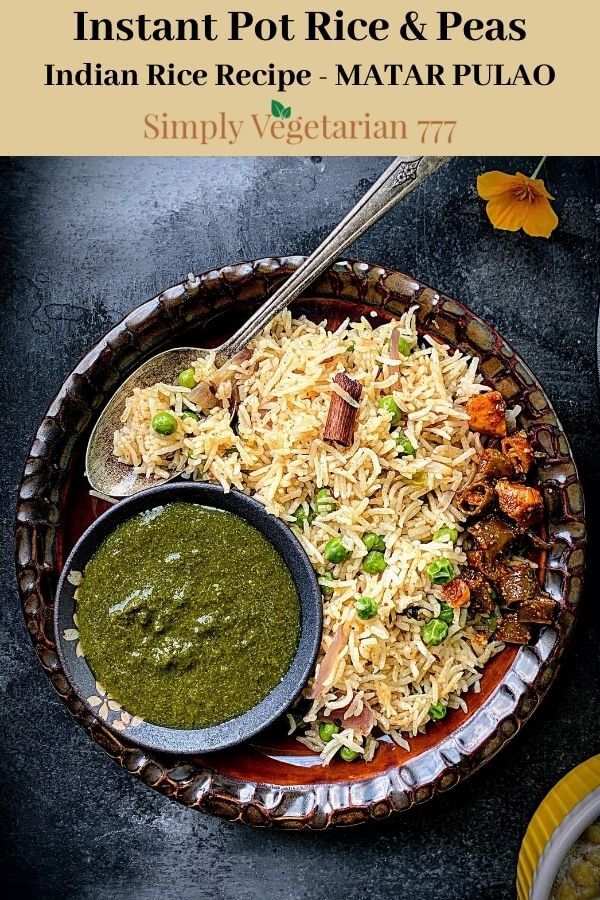 Easy Instant Pot Rice and Peas (Matar Pulao) Recipe
Matar Pulao is an amazingly simple and highly addictive dish. I have always believed that you do not have to cook elaborate to enjoy a good comforting meal. And this recipe of rice is super forgiving.
My mum made it often for our lunch box. And sometimes for a quick filling meal served with Raita, Pickles & Green Cilantro Chutney. Simple pleasures of life.
In early days, gas top pressure cooker was the most used kitchen gadget. My mother used it, mother in law uses it, and I used it for the longest time. Since the Instant Pot has made its place on my kitchen counter, my gas top pressure cooker has been retired. Now it is Effortless & Efficient Cooking.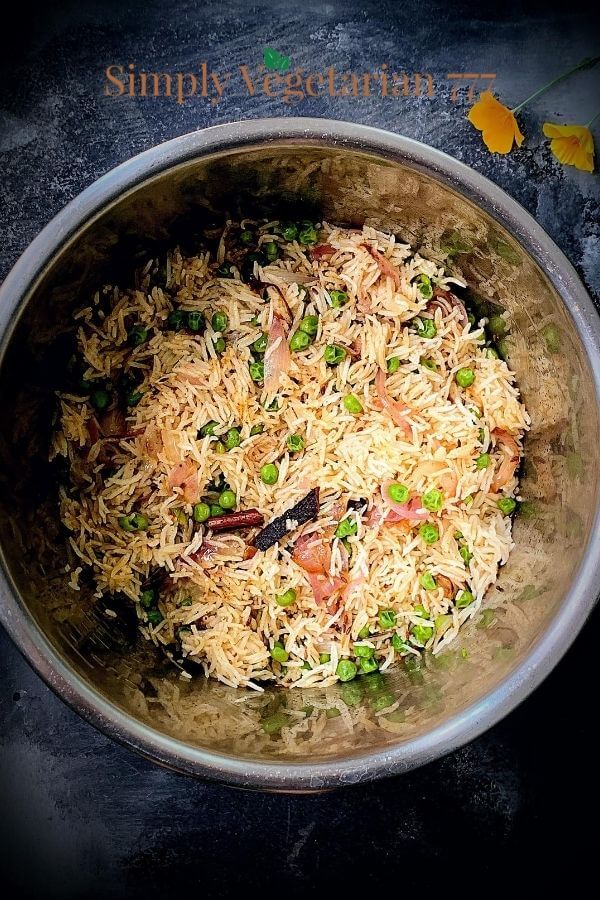 What does Pulao mean?
Pulao is known by many names in different cultures and cuisines – pilaf, pulav, pilau, polao are some of the examples.
It is a rice dish often cooked with water or broth, and flavored with spices. Often vegetables and other kinds of proteins are also added to it. The rice grains of Pilaf are cooked with a technique that they remain separated.
Have you checked our VEGETABLE PULAO yet? It is tried and loved by many. It is so easy to make that even your teenager can make it without fail. Also check out our collection of BEST VEGETABLE PULAO RECIPES from the blog.
How to make Rice in Instant Pot?
If you are a newbie to the Instant Pot, then making rice should be your first recipe in it. There is no other easy way to conquer the fear of Instant Pot.
You must follow these steps to get perfect Rice in Instant Pot. Now remember this method is for Basmati Rice, Long Grain Rice & Short Grain Rice.
Wash the rice under the running water (4-5 times) till water runs clear. Make sure water is room temperature.
Soak the water in clean water for 20 minutes before cooking.
The Water to Rice Ratio for cooking is 1:1. for every 1 cup rice, use 1 cup water. Never disappoints.
After the cooking time is over, follow QPR (quick pressure release). Open the lid. Let sit for 5 minutes. Fork it gently to separate the grains. You will get perfect rice every single time.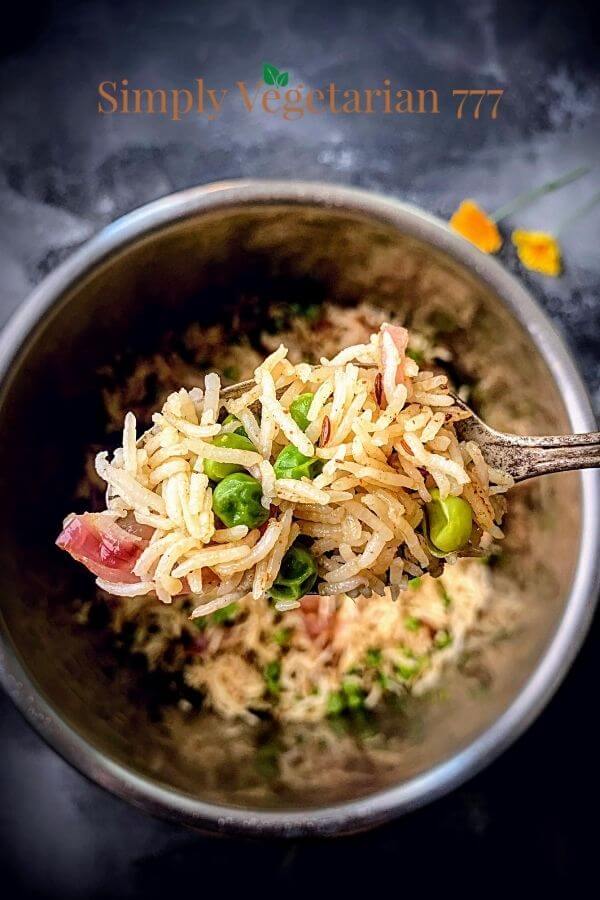 Ingredients used in the recipe
Basmati Rice – I use normally between Royal or Tilda. These 2 companies have one of the best basmati in the market.
Green Peas frozen
Ghee (Use Cooking Oil for vegan option)
Cayenne/Red Chili Powder & Salt
Water
What do I do if I do not want to buy so many spices and still want to make this recipe?
Now I understand that number of spices in the recipe can intimidate someone who is making this recipe for the first time. Or you just do not want to invest in so many spices.
Here is the solution to this problem, which I often do too….is invest in a good quality Pulao or Biryani Masala. These are south Asian/Indian spice mixes used specifically in Rice Dishes.
Here are some good brand Rice/Pulao Spice Mixes that you can choose from. These are my personally tried & tested brands.
Shan Pulao Spice Mix – This brand packs the spice mix perfect for 4-6 servings. Therefore it fits perfectly for the given measurements in the recipe. You can use either the whole pack or less as desired. I recommend the whole pack. You have to add salt to it.
MTR Pulao Mix – This is another very reliable brand for Indian Spice Mixes. Use 2 tbsp of Spice Mix along with salt to make this recipe.
MDH Pulao Mix – All time favorite brand from North India with great flavors. Use 2 tbsp of spice mic with salt to make this recipe.
Where do I buy these spices or spice mixes?
We use Amazon links to recommend the products that are quality & price friendly. All the spices have links attached. Click on the spice to order from amazon.
Or you can go to your local Indian Grocery Store and buy the spice or spice mixes from there. People are super helpful. Just let them know what you are looking for and they will guide you accordingly.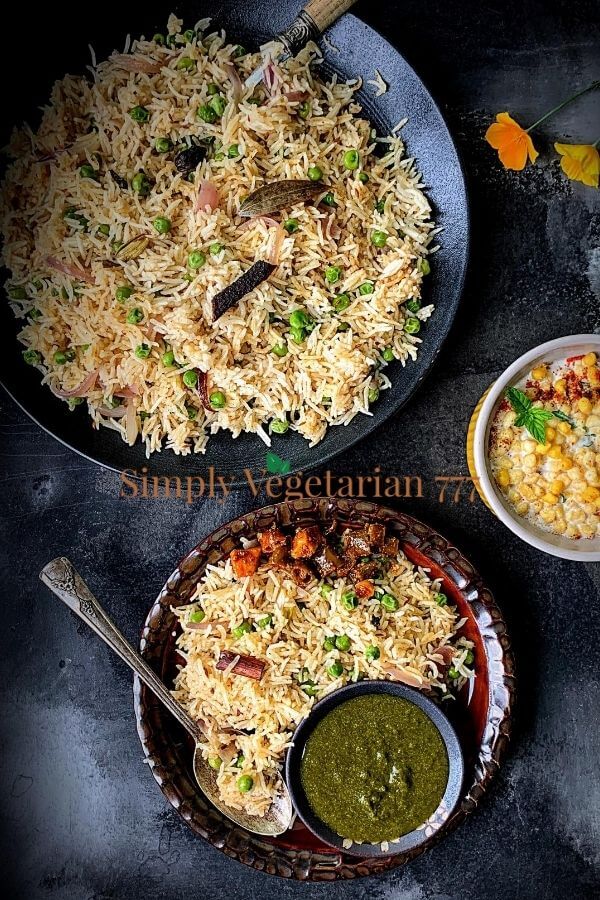 Kitchen Equipment used in the recipe
6 quarts Instant Pot, Inner Pot, Measuring Cups & Spoons, Chopping Board & Knife, Kitchen Spatula, & Serving Fork.
What Can I serve with this Indian Rice & Peas / Matar Pulao?
Although it is a complete meal in itself, here are some suggestions to make it a fuller meal. Serve it with –
Apple Mint Raita or Spinach Garlic Raita
Garlic Dal (Red Lentils Curry)
How to make Rice and Peas in Instant Pot?
Shop Back to School Cleaning & Essentials

Also, Shop Self Care Essentials for College

Shop Food & Snacks for College
You can follow us on Facebook, Instagram, Pinterest & Twitter for regular updates. And don't forget to sign up for our E-Letter whenever we publish a new post.
Yield: 6 Servings
Instant Pot Rice and Peas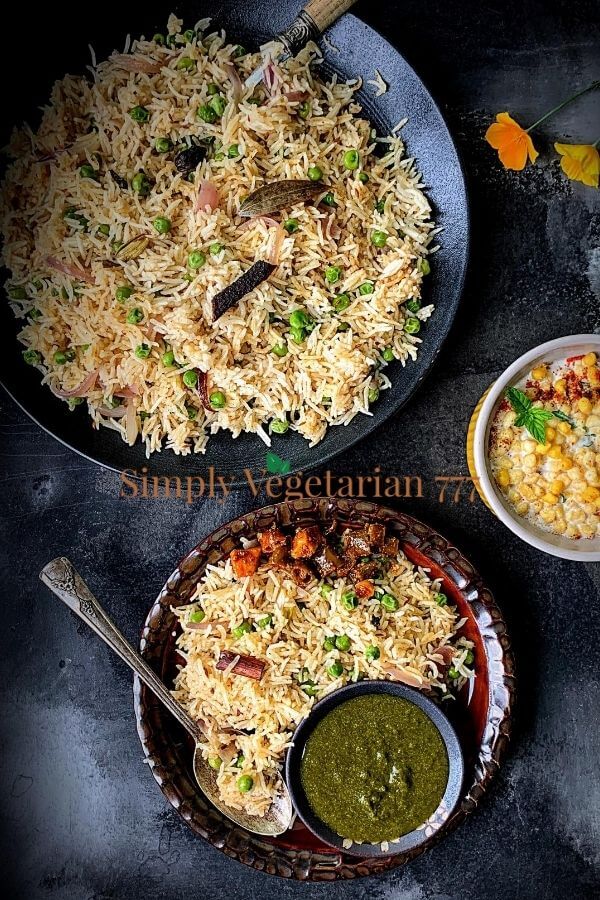 Instant Pot Rice and Peas is an easy recipe that is super yummy. It is perfect for Mid week meal or pack for lunch box. The recipe is from Indian Cuisine that uses Basmati Rice & Green Peas.

Prep Time: 15 minutes

Cook Time: 7 minutes

Additional Time: 5 minutes

Total Time: 27 minutes
Ingredients
2 cups Basmati Rice, washed & soaked
1 cup Green Peas, frozen
1 small Red Onion, sliced thin
1 tbsp Ghee or Oil for Vegans
1 tsp Cumin Seeds
1 Bay Leaf
1 small stick of Cinnamom
4 Black Pepper Corns
4 Whole Cloves
3 Whole Cardamom
1 Black Cardamom, optional
1 tsp Garam Masala
2 tsp Salt
2 cups Water
What if I do not want to buy all the spices?
Then use 2 tbsp of recommended Pulao/Pilaf Spice Mix from the mentioned brands above in the main post. MDH, Shan, Badshah are some good quality Pulao spice mixes available at your local Indian Grocery Store. The rest of the ingredients remain same along with Salt.
Instructions
You can follow us on Facebook, Instagram, Pinterest & Twitter for regular updates. And don't forget to sign up for our E-Letter whenever we publish a new post.
Preparing For The Recipe
It is very important to wash and clean the Basmati Rice under clean running water. First wash it for 4-5 times till water runs clear. Then soak it in room temperature water for 15-20 minutes.

Meanwhile gather all the other ingredients. Slice the red onions and set aside.
Cooking Rice and Peas in Instant Pot
Drain the water from rice and set aside.


Place the inner pot inside Instant Pot and plug it in. Press saute on high and set for 5 minutes. Once the screen displays HOT, then add Ghee or Cooking Oil to it.

After few seconds, add cumin seeds, bay leaf, cardamom, black cardamom(optional), whole cloves, black pepper corns and cinnamon stick to it. Saute for few seconds.

Now add thinly sliced red onions and saute for about 2 minutes till they turn nice dark pink. Cancel Saute.

Once the onions are cooked, add frozen green peas and drained rice to it. Mix well.

Now add salt & Garam Masala along with water. Give it a good stir. Place the lid of the IP and set on SEALING. Now set it on PRESSURE COOK HIGH for 5 minutes.

As the timer goes off, follow QPR (quick pressure release). Open the lid once the pressure valve drops down.

Now let the rice stand for 5 minutes without touching. After 5 minutes, take a serving fork and fork the rice through gently. It is ready to be served.

Have you checked our BEST VEGETABLE PULAO RECIPES recipe yet?
SERVING SUGGESTIONS
Although you can eat this dish as is but you can combine it with some other dishes to make it a fuller meal.

Apple Mint Raita or Spinach Garlic Raita

Garlic Dal (Red Lentils Curry)
Can I make it ahead of time?
Yes you can make it ahead of time and reheat it as required.
Does it refrigerate well?
Yes it refrigerates well for up to 1 week. You can prepare and use it as a part of meal prep for the week.
How to reheat it?
I normally reheat in a microwaveable bowl. Cover it with a microwave safe lid and heat for about 2-3 minutes. Add a tbsp of water before heating to avoid the dryness.
Can I freeze it?
I have seen many people freezing rice. Though I do not recommend it. It looses its texture. If that does not bother you, then go ahead and freeze it.
What if I do not have time to soak the rice?
If you do not have time to soak the rice, then wash and use. Increase the rice to water ratio. For 2 cups of Rice, add 2&1/2 cups of water. Let pressure release naturally for 5 minutes and then follow QPR. Rest of the steps remain same.
Can I replace Green Peas in the recipe with something else?
Yes you can. You can use 1 cup of canned Kidney Beans, Or Chickpeas, Chana Dal, or Soy Nuggets or any protein of your choice. If you are using canned beans, wash them thoroughly before use.
Notes
The ideal ratio of Basmati Rice to Water when cooking in IP is 1:1.
It is always advised to soak the rice for about 15-20 minutes for best result.
You can use Long grain or short grain rice for this recipe. But Basmati is the best.
Nutrition Information
Yield 6 Serving Size 1
Amount Per Serving Calories 208Total Fat 7gTrans Fat 0gCarbohydrates 33gFiber 3gSugar 3gProtein 5g

The provided nutrition information is an estimate. Please confirm with your doctor or nutritionist before attempting this recipe if you are on a special diet.

I am sure you are going to try this recipe. Please leave your feedback under the comments section. And if you get time, then please rate the recipe as well.

Thanks,
Sonal