Instant Pot Easy Palak Paneer – Quick Restaurant Style Recipe
As an Amazon Associate and member of other affiliate programs, I earn from qualifying purchases.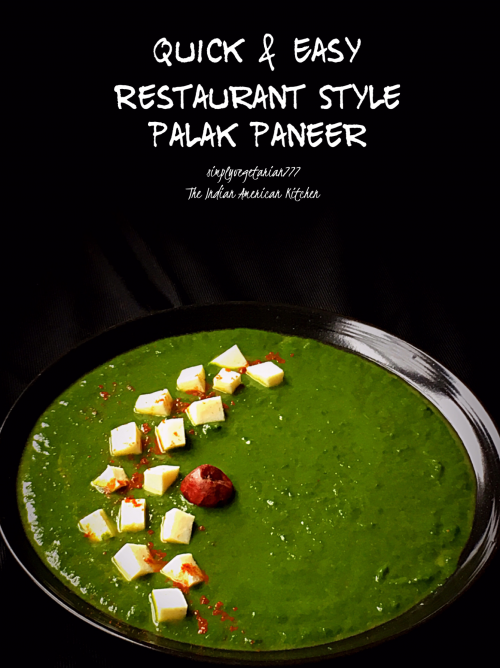 This Easy Palak Paneer is a Quick Restaurant Style Recipe, made with much less effort. It is delicious, creamy, and rich bursting with flavors. Palak Paneer is best enjoyed with hot Naan.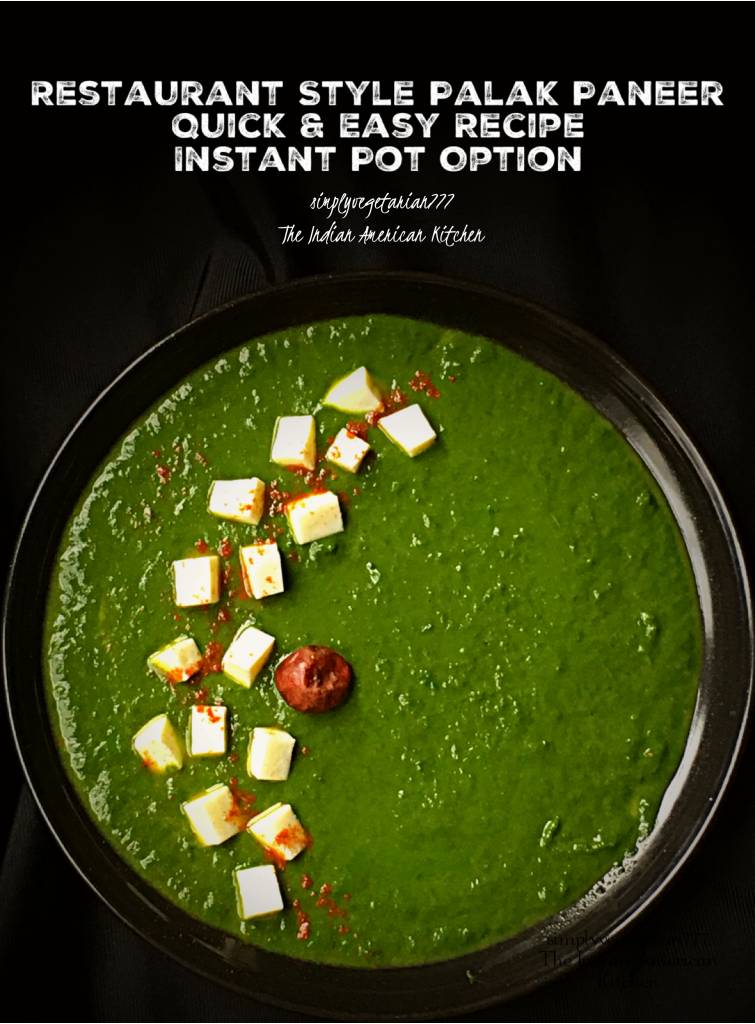 Quick Restaurant Style Easy Palak Paneer Recipe
I am sure that everyone out there who likes Indian Food, is familiar with Palak Paneer. It is also known as Saag Paneer. This is a very popular dish offered at Indian Restaurants and is loved by many. Palak Paneer is a rich and creamy curry from North Indian cuisine.
Palak = Spinach and Paneer = Indian Cottage Cheese. Therefore Palak Paneer = Spinach Cottage Cheese Curry
If you are a fan of this curry, then you must try this recipe at home. It is the Easy Palak Paneer Recipe that is not only a Quick Palak Paneer but also Restaurant Style Saag Paneer. You will be amazed at the secret ingredient used in this recipe. I promise that the secret ingredient will place this recipe a notch higher.
Honestly, I make Palak Paneer with many variations and different cooking methods. I have made it in an open pan, closed pan, pressure cooker and Instant Pot. Check out my different variations here, and here.
Check this post out for Authentic Restaurant Style Palak Paneer from my archives.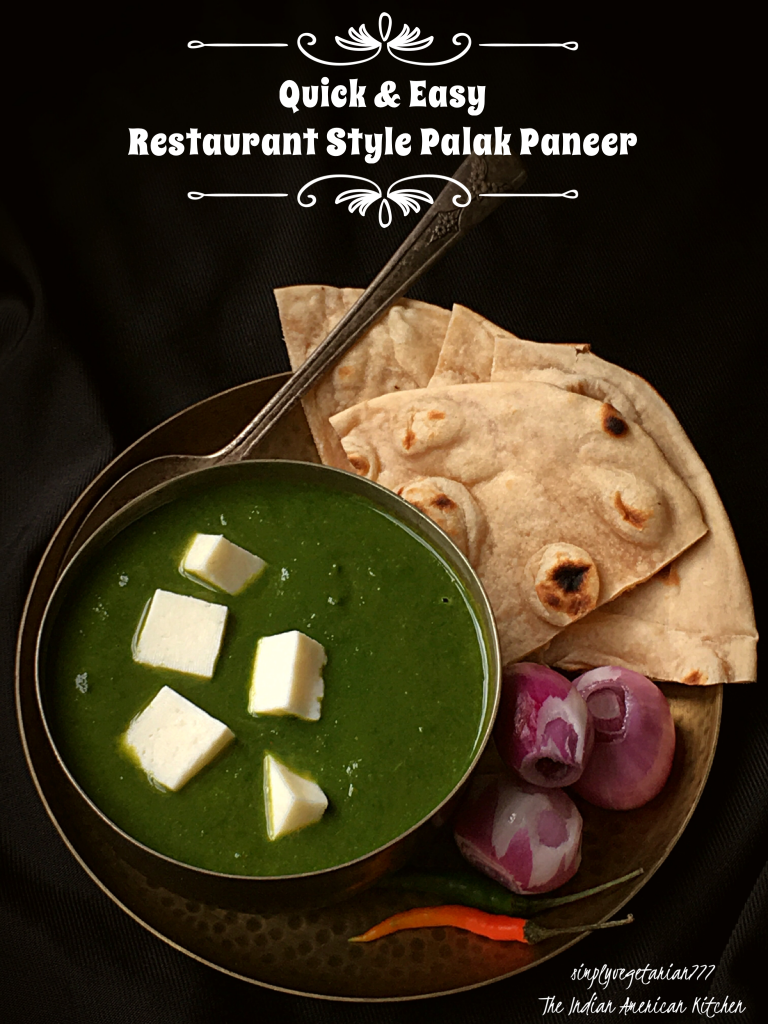 How to make Palak Paneer at Home?
I come across this question a lot by many folks who like to eat this at the Indian restaurants and then want to duplicate it at home. I have to tell you that it is the easiest curry recipe that you can make at home easily. All you need is –
Palak or Spinach – washed and cleaned
Paneer or Indian Cottage Cheese – Home Made Paneer or Store Bought
Fresh Produce like Tomatoes and Ginger
Heavy Cream or My Secret Ingredient for More Flavor
Simple Indian Spices like Turmeric, Garam Masala, Red Chili powder and Salt
That's it. Yes, only a handful of ingredients and done.
Palak Paneer is a Perfect Weeknight Dinner Dish. Why?
Here are my top reasons why this is a perfect mid-week or a busy night indulgence.
The recipe uses very few ingredients and can be prepped in advance.
You can make a big batch and store in the refrigerator for a week. Use it as a side or main to make different meals. I make paranthas/flatbreads using leftover Palak Paneer. It can be paired with rice, naan, pita, parantha or eat it as is in a bowl.
This recipe doesn't need a lot of cooking and comes together in no time.
Since Spinach or Palak is the main ingredient of the recipe, it is a good source of nutrients as well. A great combination of Healthy and Delicious.
Options to Substitute Paneer in Palak Paneer
In case you do not get Paneer easily or can not make it at home, then here are the other options to substitute paneer in this recipe. It won't be Palak Paneer anymore but hey that lingering taste of creamy Spinach Curry is the ultimate goal to aim for.
Here is what you can use instead of Paneer in the Recipe –
Boiled or Canned Chickpeas. It will be called Saag Chana or Chana Palak.
Extra Firm Tofu cubed as is or slightly baked or air fried or deep fried Tofu. It will be Palak Tofu then.
Boiled and Peeled Potatoe, like this Saag Aloo from my blog.
Thawed frozen corn or bay corns. This will be known as Makai Saag.
Mixed vegetables. I use frozen anytime. Mixed Vegetable Saag will be the name.
Make koftas or use Market bought Veggie Meatballs. It will be Saag Kofta or Palak Kofta.
Instant Pot Easy Palak Paneer Recipe. Why?
Though it is an easy recipe and can be easily cooked in an open pan, I still prefer making it in my 6 quarts Instant Pot. Here is why –
Making curry is a somewhat messy business. It splatters all over. Cooking Curry in Instant Pot makes it a MESS-FREE cooking. Less Cleaning.
Instant Pot lets me cook and work at the same time. It is practically HANDS-FREE Cooking. I can put everything in the pot. Set the timer and work around on my blog and home. I get much more done in the same amount of time.
It gives me the advantage of being able to cook in advance and still run errands. I can manage the kids after school activities and fresh dinner at the same time.
It is ONE POT cooking. No extra pots and dishes to wash.
PRO TIPS on RETAINING THE COLOR OF SPINACH or PALAK
Here are 2 things that I do to retain the color of the Spinach or Palak.
Add something acidic while cooking it. Tomato is my best friend to retain the color.
DO NOT OVERCOOK spinach.
Here are some other VEGETARIAN INSTANT POT RECIPES from simplyvegetarian777 –
Red Kidney Beans Curry (Punjabi Rajma),
Punjabi Kadhi, Red Thai Curry,
Dhaba Dal, and many more.
Some Home Made Naan Recipes to go with Palak Paneer –
Mint & Garlic Butter Naan, Whole Wheat Naan, No Yeast Griddle Naan, and more.
You will need following kitchen gadgets to make this recipe in Instant Pot.
You can order from amazon.com. Your purchase helps us earn a small commission to keep the blog running.
Hand Held Blender or Blender of your Choice
GIVE A SHOUT OUT ON OUR SOCIAL MEDIA –  FACEBOOK, INSTAGRAM, PINTEREST, AND TWITTER, IF YOU TRY IT.
Here is how to make Instant Pot Palak Paneer Recipe that is Quick and Easy.
Instant Pot East Palak Paneer
This Easy Palak Paneer is a Quick Restaurant Style Recipe, made with much less effort. It is delicious, creamy, and rich bursting with flavors. Palak Paneer is best enjoyed with hot Naan.
Ingredients
1 pound or

500 grams

Spinach

cleaned & washed

1 large

or 2 small

Tomatoes

roughly chopped

1 small

piece or 1 tsp grated

Ginger

roughly chopped

1

Green Chili

roughly chopped

10 ounce or

300 grams

Paneer

cubed (fried or as is)

1/2

cup

Heavy Cream or Plain Alfredo Sauce

1

cup or more

Water
Oil & Spices
1

tsp

Cooking Oil

1/2

tsp

Turmeric

1&1/2

tsp or to taste

Garam Masala

1/2

tsp or to taste

Red Chili powder

use cayenne for substitute

1

tsp or to taste

Salt
Instructions
Place the inner pot inside the 6 quarts Instant Pot and Plug it in. Press the SAUTE MODE and set it to HIGH for 10 minutes. Once the Screen displays HOT, add oil to it.

Then add tomatoes + ginger + all the spices mentioned. Saute for 1 minute. Add the SPINACH LEAVES. Press them down to fit it in. Place the glass lid over and let steam for about 4-5 minutes till spinach leaves are wilted lightly and settle down.

Cancel the Saute mode. Add 1 cup water (room temperature) and blend it all into a puree with either hand-held blender or in a regular blender. Make a smooth puree.

Add 1/2 cup ALFREDO SAUCE or Heavy cream. I love adding plain Alfredo sauce. It adds tonnes of more flavor to the curry. You may use heavy cream if you want to.

GIve it a good stir. Adjust salt and garam masala. Set the SAUTE MODE again to HIGH and for 5 minutes. Once this Spinach curry or sauce will heat up, add cubed Paneer.

In case you do not want to add Paneer, then add extra firm tofu, or baked tofu, thawed corn kernels, mix vegetables, baby corn, chickpeas etc.

PALAK PANEER is ready. Serve it with Naan or Rice of your choice.
If you try it, then do share your feedback under comments and please rate the recipe card too. Will appreciate it.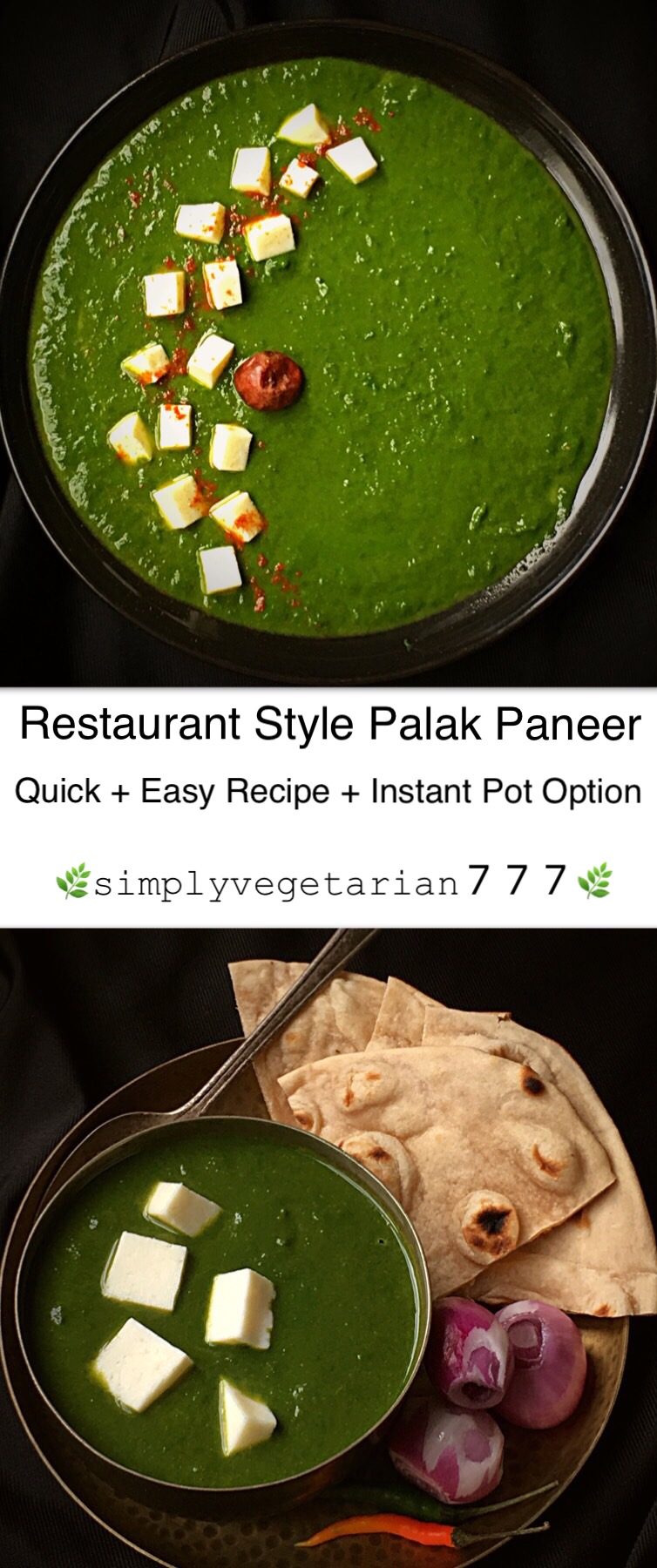 In my kitchen, you will always EAT HAPPY & STAY HAPPY!
Sonal