Sabudana Khichdi Navratri Recipe
As an Amazon Associate and member of other affiliate programs, I earn from qualifying purchases.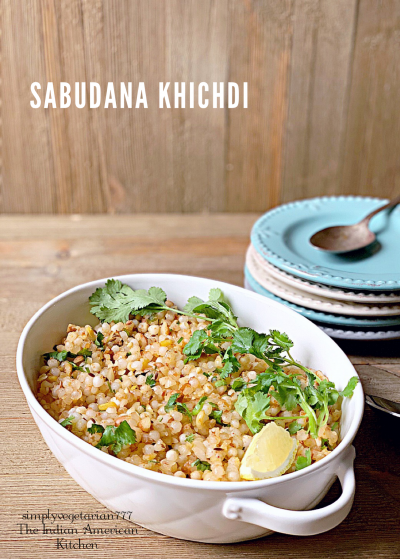 Sabudana Khichdi Navratri Recipe is an easy & delicious recipe. Find a lot of tips and tricks to make it right. It's made with Tapioca Pearls and is glutenfree + vegan.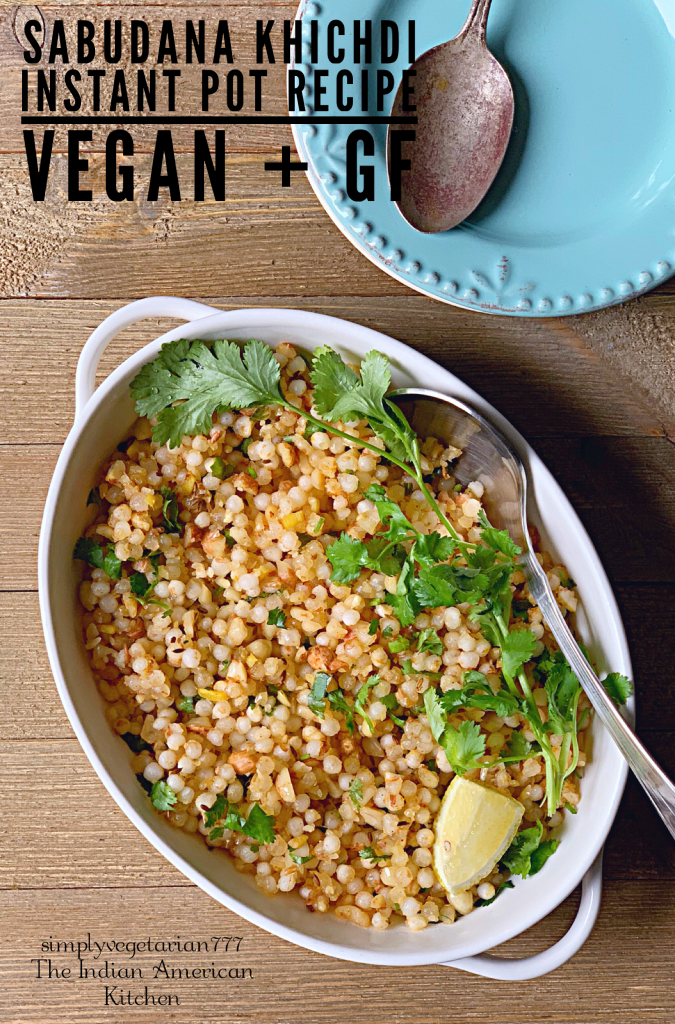 Easy Sabudana Khichdi Navratri Recipe
Navratri 2018 is starting. All the people who observe these 9 holy days of the festival are looking for easy and convenient recipes.
We consume Gluten-free, Vegetarian and simple food during these days. The Root Vegetables like potatoes, yams, sweet potatoes, colocasia are cooked. The least amount of spices are used as well. Special kind of Salt called Sendha Namak is used to cook most of the food during these 9 days.
Navratri is a complete detox of Mind, Body, and Soul.
To learn more about How to celebrate Navratri and the Dos & Don'ts, CLICK HERE!
What is Sabudana?
Sabudana is made out of Tapioca Starch. The starch is first extracted and then processed to make the pearls. It is a popular and most loved dish made during Navratri days. I love to eat it throughout the year.
Sabudana or tapioca pearls are hard when raw. Therefore, these are first washed and soaked for an hour and more before cooking. After soaking, the sabudana pearls almost double in their size and become soft and mushy. Check this picture below.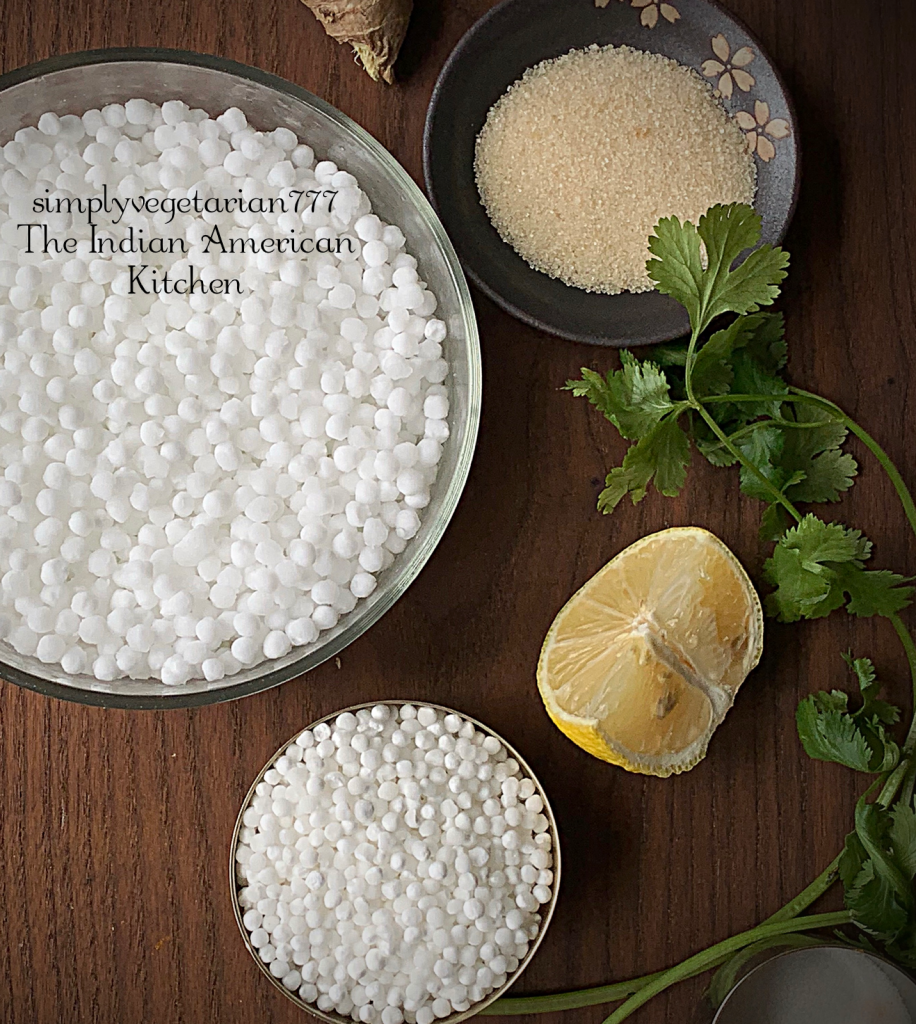 What are the main ingredients used to make Sabudana Khichdi?
These are the ingredients used in making Sabudana. Many people use a boiled potato also but I prefer to cook without it.
Ghee or Cooking Oil
Sabudana or Tapioca Pearls – I love Laxmi Brand
Sendha Namak – it is great for Blood Pressure patients since it is not a sodium derivative.
Green Chili
Ginger
Lemon Juice
Coriander / Cilantro leaves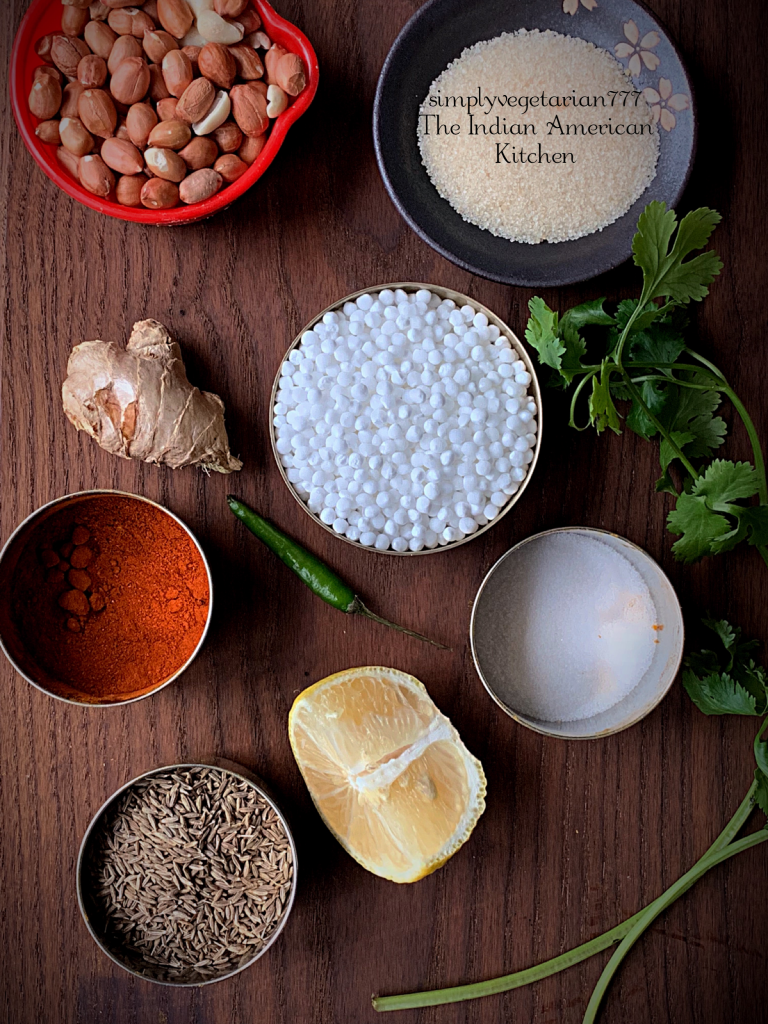 Can I make Sabudana Khichdi in Instant Pot?
You definitely can. I have tried it making in Instant pot too. It comes out pretty good but not as good as stove top or pan fried. If you have time, then make it in pan.
In case you want to try it in Instant Pot, then here is what I did –
Press Saute Mode. When screen displays HOT, add oil in inner pot of the Instant Pot. Add cumin seeds and ginger and green chili. Saute for few seconds.
Add sabudana mixture to the pot. Give it a good stir.
Cancel saute mode. Place the lid of the IP.
Press Pressure cook mode and set on 1 minute HIGH/MORE.
When beeper goes off, open the lid and stir again.
The sabudana made in IP was quite awesome and convenient as it was totally hands free. But the texture was slightly different. Do give it a try. You will have a great method in place when running out of time. It doesn't burn at the bottom. So that is taken care of too.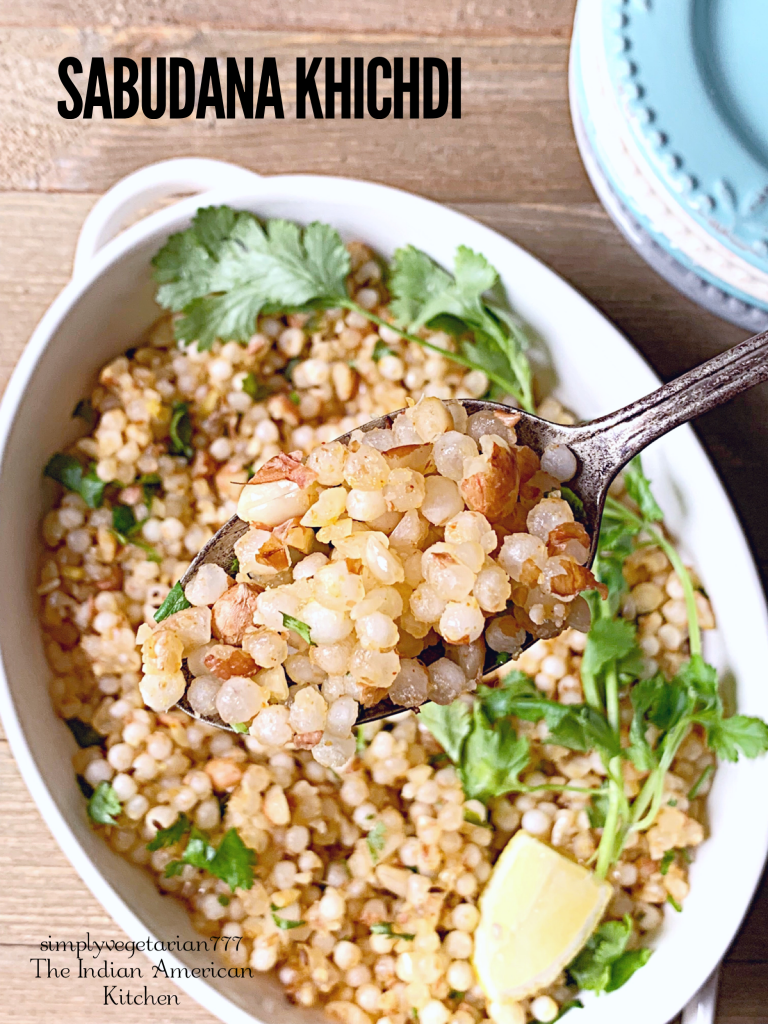 How to make Sabudana Khichdi?
Sabudana Khichdi is a simple process to follow. It requires –
Washing & Soaking Sabudana
Checking the sabudana for doneness
Coarsely Grinding the Peanuts
Gathering the ingredients
Mixing most of the ingredients in a large bowl first
Then finally cooking it either on Gas Top or Instant Pot.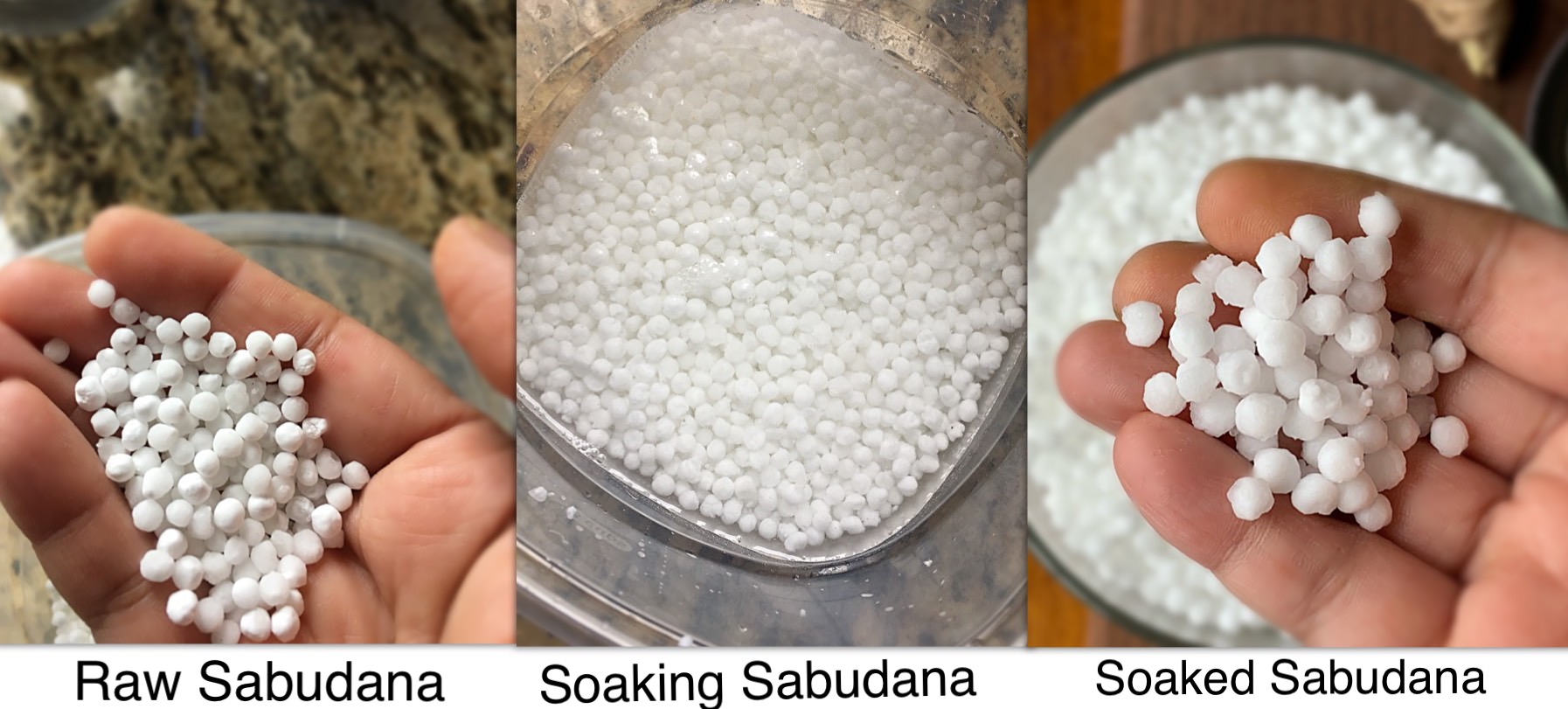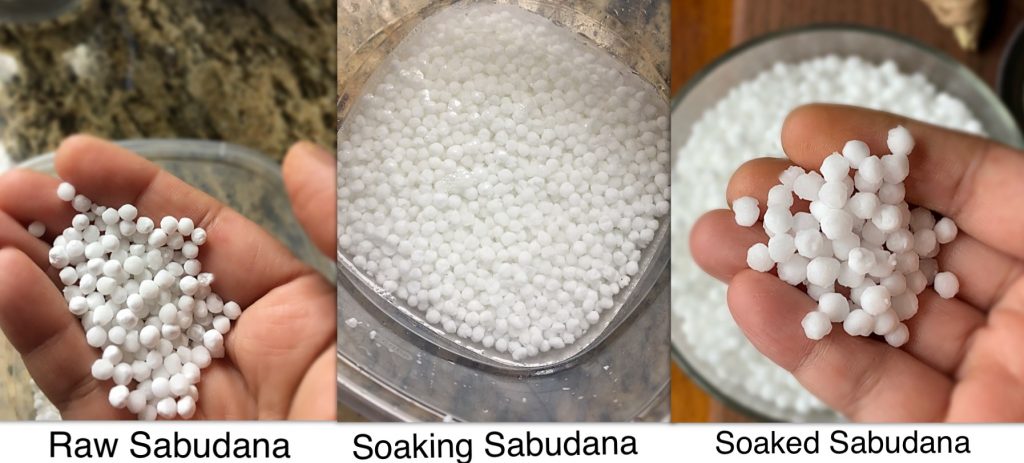 How to make sure that Sabudana is ready for cooking?
First of all, sabuana has to be washed under running water in a sieve or strainer. Then it needs to be soaked in enough water for a minimum of 1 hour. Sabudana is ready to be cooked when
it is swollen up almost double in size.
When the grain is smushed between a thumb and a finger, it is completely smashed till the center. If there is still a knot in the center of the grain, add more water and soak it further.
Few varieties and brands can take longer to swell up. I use Laxmi brand and it never disappoints. It gets ready in 1 hour for me. It can vary with temperatures also. In winters, it might take longer to prepare.
What kind of peanuts are used to make Sabudana Khichdi?
Normally, raw and unsalted peanuts are used for making sabudana. It doesn't matter if they have their red skin on or are dehusked. They are then coarsely ground in a food processor. Alternately, you may put them in a big ziplock and seal. Run a rolling pin couple of times to break them coarsely.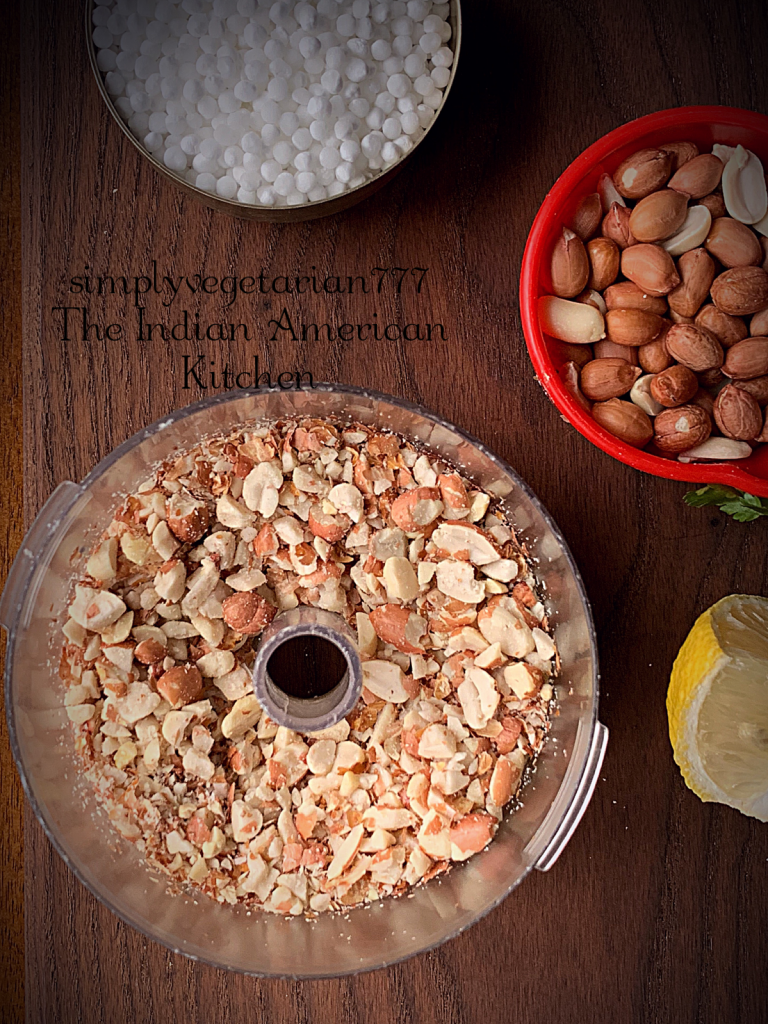 Here are some Navratri Fasting Recipes from simplyvegetarian777 –
Sabudana kheer, sabudna thalipeeth, rajgira ke paranthe, kuttu ke cheele, sabudana Wada in air fryer, lauki kofta in peanut curry and many more.
Check these Vegetarian Instant Pot Recipes from simplyvegetarian777 –
Punjabi Kadhi, Rajma Masala, Pav Bhaji, Taco Soup, Corn Chowder, Cajun Pasta and more.
Watch the video on how to make sabudana khichdi with tips and tricks
This is how to make Sabudana Khichdi for Navratri
Sabudana Khichdi Navratri Recipe
Sabudana Khichdi Navratri Recipe is easy & delicious recipe. Find lot of tips and tricks to make it right. It's made with Tapioca Pearls and is glutenfree.
Ingredients
1

cup

Sabudana pearls

3/4

cup

Peanuts

raw

1 small piece or

1 tsp

Ginger

finely chopped

1

Green Chili

finely chopped
Oil & Spices
1

tbsp

Cooking Oil or Ghee

1

tsp

Cumin seeds

1 tsp

or to taste

Sendha Namak or Regular Salt

1

tsp

Sugar

2 tsp

or to taste

Lemon Juice

1/4

tsp

Black pepper powder or red chili powder

1

tbsp

Cilantro / Coriander leaves
Instructions
WATCH THE VIDEO ABOVE & READ THE POST FOR MORE TIPS AND TRICKS ON SOAKING THE SABUDANA & TESTING FOR DONENESS
SOAKING & PREPPING SABUDANA
Wash and soak the sabudana pearls in 1 cup water for 2-4 hrs. Cover it. Set aside. Check for doneness by pressing few soaked sabudana between thumb and finger. If it presses down to the center of the sabudana effortlessly, then it is done. If it still has a lump in the middle, soak it for more time. The size of sabudana doubles in size after soaking. When ready to use, discard the extra water, if any.
PREPARING PEANUTS
I use the raw whole peanuts. It doesn't matter whether the peanuts have red skin on or the nuts are skinned. Grind the peanuts coarsely. You can either run the nuts in food processor roughly or put them in a ziplock. and run the rolling pin over it a couple of times. You have ground peanuts.
PREPARING FOR SABUDANA KHICHDI - watch the video above
Take a large bowl. Transfer the soaked sabudana to it. Add ground peanuts, salt, pepper, sugar, lemon juice to it. Mix all the ingredients together with a fork. This is an important step to keep the sabudana separated.

Take a heavy bottom pan and heat oil in it. Once the oil is hot, reduce the heat to medium-low. Add cumin seeds to it. Once the seeds start crackling, add ginger and green chili. Saute for few seconds.

Now add prepared sabudana and peanut mixture to the pan. Give it a good stir. Keep stirring and continue stirring on the lower-medium flame. Continuous Stirring is important so that it doesn't stick with each other. Stir till most of the pearls turn opaque.

Add chopped cilantro leaves. Toss well. Serve it warm.

STORAGE & REHEATING
You can refrigerate it, though it is best when eaten freshly cooked. You can reheat it in the microwave easily. Cover the bowl with wet kitchen paper towel and heat for 30 seconds at a time till it reaches the desired temperature. After every 30 seconds, stir with a fork. You can reheat on the gas top too. Heat few tbsp of water in a pan and add refrigerated sabudana. Stir continuously and warm it up.
I am sure you are going to make this recipe soon. This is my all time favorite throughout the year.
Can't make it now? PIN SABUDANA KHICHDI FOR LATER!

In my kitchen, you will always EAT HAPPY & STAY HAPPY!
Sonal
Save 45.0% on select products from SweatyRocks with promo code 45PAJPANTS, through 10/17 while supplies last.